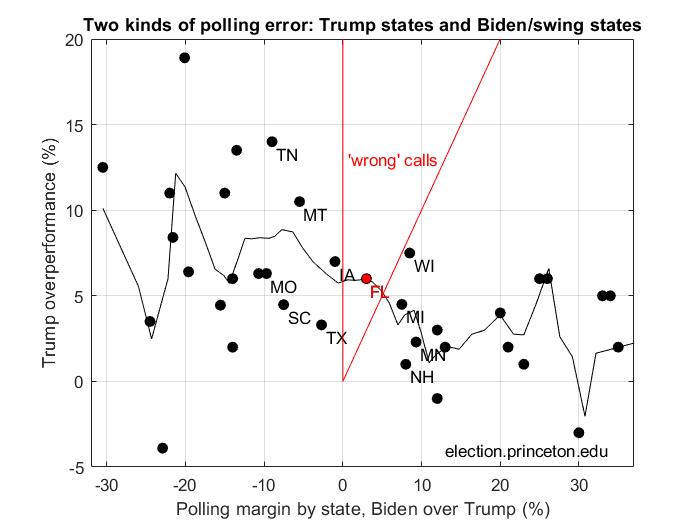 While we wait for the likely conclusion of a Biden win with 306 electoral votes and a 5-6% popular-vote margin…
The graph above shows only states which have been called by media organizations, and where the count is >95% complete (results from NYT). For example, California, Arizona, Nevada, Pennsylvania are left out. Things may change.
In only two states, North Carolina and Florida, did the polls point in the wrong direction, where "wrong" means the sign of the polling margin and the outcome are opposite, and are indicated in red (North Carolina's not entirely done yet). From a public consumption standpoint, though, that was consequential: before there election, expectations were raised of a possible Election-Night resolution…which was then followed by four days of suspense (I'm updating this on Saturday 11/7, after the networks finally called Pennsylvania).
But if we get into the details, there is a notable error in state polls. It has two components: (1) In states where polls favored Biden, the actual vote margin favored Trump by a median of an additional 2.6 points. (2) In states where polls favored Trump, Trump did better by a lot – 6.4 points median, and increasing steeply with his vote share.
Before you get all excited about that larger number…I should point out that it's a known phenomenon in landslide states.  [Read more →]