First, Quick Observations
The draft Georgia Congressional map received a C overall in our Redistricting Report Card, a project of the Princeton Gerrymandering Project and RepresentUS.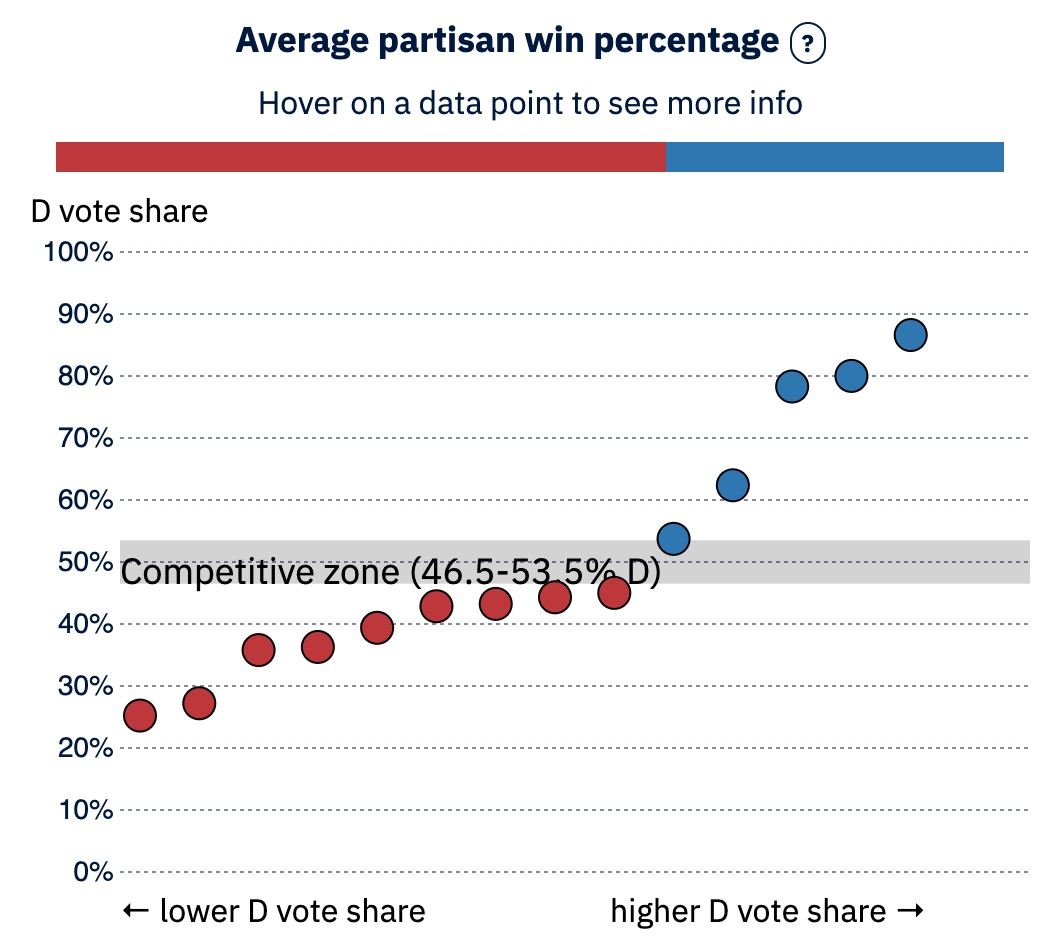 The map received a C in Partisan Fairness, with an advantage to Republicans, with an expected delegation of 9 Republicans and 5 Democrats.
The map received a C in Competitiveness with zero Competitive Districts. This is a passing score, but barely. The distribution of Democratic and Republican voters in Georgia is clustered, which means that eliminating competition is technically easy. The two districts that are the closest to competitive are the Sixth and the Second. The Sixth is a district that includes parts of the Atlanta suburbs including parts of Fulton and Forsyth Counties, whereas the Second is a large district in the southwestern part of the state, including Columbus and Albany. 
What the Data Reveals
In the plot above, the Second and Sixth Districts show clear signs of being pushed out of the competitive zone.
The map received a C in Geography, with average scores in compactness and county splits.
The prior Congressional map contains four Black opportunity districts, and the current proposal does not regress from that number. In the prior map, all four districts had a Black Voting Age Population (BVAP) of greater than 50%, whereas in the new map, one of those districts, the Second District (the Southwestern district discussed above), drops below that threshold. Five districts have a Minority Voting Age Population (MVAP) over 50%; all of them are D districts.
District 12 (in eastern Georgia, including Augusta) is drawn to be a solid Republican district (R vote share of 55.7%), but has a 45% MVAP. These minority voters may be denied an opportunity to elect: the FiveThirtyEight Atlas Of Redistricting shows that it is possible in this part of Georgia to draw a minority-opportunity district that includes Augusta and Savannah.
Five districts have a Republican vote share between 55-60%. Safe but not overpacked districts are a key tell for gerrymandering. With demographic change in Georgia, these could eventually flip, creating a "dummymander" – an intended gerrymander that backfires. For example, the current GA-06 was originally considered a safe GOP district, but went Democratic in the 2018 election. But for now, this map is a pro-Republican gerrymander.
How Technology Accomplishes the Gerrymander
Technology strategies have been employed to "pack and crack" voters based on their partisan identities. Packing refers to concentrating the opposing party's voting power in one district. Cracking refers to diluting the opposing party's voting power across many districts. Because nearly all voters are loyal to one party, mapmakers can use software to keep districts out of the competitive zone and build a pattern of lasting partisan advantage.
How can we tell? It shows up in the distribution of data.
Line drawers may ask: how many districts within this exact band can be drawn?
When measuring for packed wins (the difference between the average Democratic win and the average Republican win), Republicans' wins are closer by 9.9 percentage points – in other words, more efficient. In an ideally fair map, both parties would have similar average win percentages, resulting in a packed-wins index closer to 0%. 
Four districts in the draft Georgia congressional map were drawn to be "Super Blue" – packing Democratic voters into already safe districts and cracking them between other districts to keep Republican districts out of the competitive zone. This strategy is discussed in this article from 2018.
This strategy seeks partisan advantage without regard to other priorities for fair districting, such as communities, racial fairness, and geographic splits. Software can be used to clean up lines to make a pretty map, but concealing partisan intent. Under current law, it may also be possible to claim that the priority was partisan rather than racial. But because race and party are interrelated, a partisan harm is often also a harm to racial groups.
Follow our team at Princeton Gerrymandering Project for the latest analysis, report cards and data dashboards for this cycle's redistricting maps.