The polling errors for Senate candidates were quite large this year. In 13 races with final-ish results, the margin of the outcome was a median of 7.9 points more Republican than the last week of polling. That's an amazingly large difference. In the past, the median error was no more than 3 points or so.
A big reason seems to be voters who were "undecided" about their Senate choice came home to their party. The other day I showed a graph that showed this effect (click to enlarge):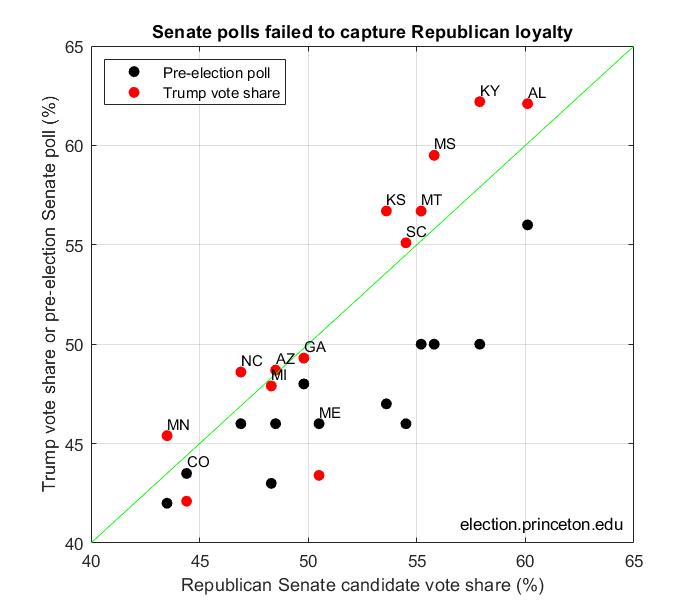 However, this didn't show up for Democrats.
Overall in the above graph, Republican candidates had a considerable reservoir of support that was not apparent in their named polling. We've all been living in The Trump Show – perhaps some Republican voters were not paying such close attention to Senate races until it was time to vote.
(The exception to the overall pattern was Maine. In that case, Collins did about 4 points better than her last week of polls (black symbol), and 7 points better than Trump's vote share (red symbol). I would guess that her last-minute vote against confirming Amy Barrett had an effect.)
The discrepancy between polls and vote share isn't visible for Democratic candidates.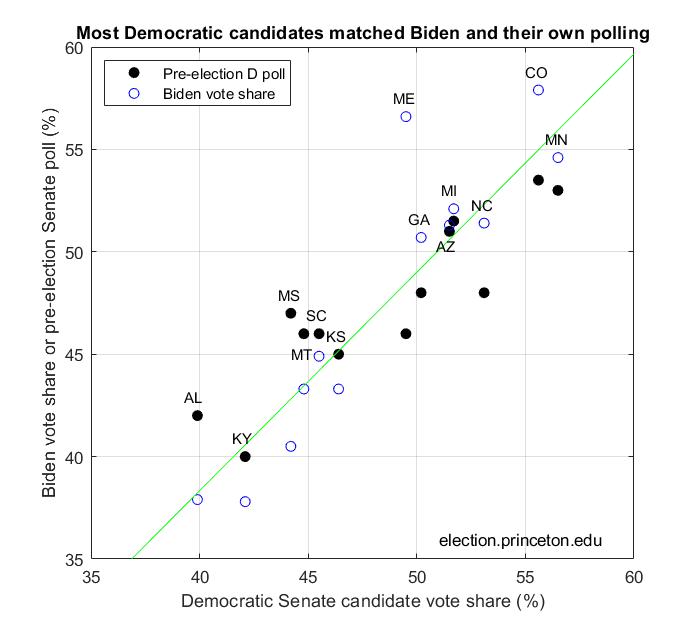 Overall, Democrats did a median of 1.4 points (SD 2.6 points) better than their final polling numbers. They also matched Biden's numbers pretty well.
Could this possibility have been detected in advance? I was focused on the two-candidate margin, as was the FiveThirtyEight tracker, which showed that quantity as a main column in their data tables.
In the past there's been a lot of talk about undecided voters. In Senate polls, the median share of voters not expressing a preference was 5%. It appears that nearly all of these voters were Trump voters who were unable to state a preference in the Senate race.
I'm pretty sure this is not a "shy Graham" vote or whatever. Generally I believe it's time to retire or de-emphasize the idea that there are shy voters. Why would a voter be more willing to express Trump support than for the Senate candidate?
I suggest another possibility: voters don't always have the capacity to verbalize what they want. There's a fair bit of social science research demonstrating that "undecided" voters have hidden preferences that can be inferred by asking them other questions. Josh Gold and I wrote about this in 2008.
In this case, a few more follow-up questions could have helped, such as "Who do you support for President?" or "Are you favorable/unfavorable toward [insert candidate name here?" or even "Will you vote by mail or in person?" This general concept could be tested by looking at this year's answers to such questions for "undecided" voters. And in the future, pollsters or aggregators could use such information to help assign "undecided" voters to their top-line Senate result.
We used the two-candidate margin for overall calculations. That could be changed to include undecided voters, and in Presidential years to take into account partisan preference. We also used the margin to identify the best opportunities for donation. With undecideds taken into account the highest voter-power states wouldn't be that different, but their order would change. Broadly, your donations were mostly well-placed – but taking into account Presidential preferences would have highlighted North Carolina and Georgia more.
In any event, it was not a good year for showing the power of donations. I apologize for any role I had in misdirecting your efforts.