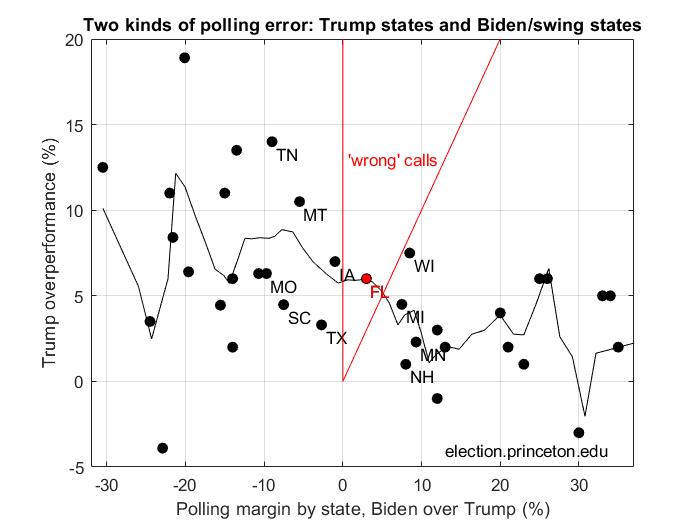 While we wait for the likely conclusion of a Biden win with 306 electoral votes and a 5-6% popular-vote margin…
The graph above shows only states which have been called by media organizations, and where the count is >95% complete (results from NYT). For example, California, Arizona, Nevada, Pennsylvania are left out. Things may change.
In only two states, North Carolina and Florida, did the polls point in the wrong direction, where "wrong" means the sign of the polling margin and the outcome are opposite, and are indicated in red (North Carolina's not entirely done yet). From a public consumption standpoint, though, that was consequential: before there election, expectations were raised of a possible Election-Night resolution…which was then followed by four days of suspense (I'm updating this on Saturday 11/7, after the networks finally called Pennsylvania).
But if we get into the details, there is a notable error in state polls. It has two components: (1) In states where polls favored Biden, the actual vote margin favored Trump by a median of an additional 2.6 points. (2) In states where polls favored Trump, Trump did better by a lot – 6.4 points median, and increasing steeply with his vote share.
Before you get all excited about that larger number…I should point out that it's a known phenomenon in landslide states. Pandemic effect? A long time ago, I pointed out that states with lopsided margins tend to have polls that understate the winner's margin. (See "The exuberance of likelier voters," November 12, 2008.) In this case, the larger bonus in strong Trump states might have arisen from lower enthusiasm for voting among Democratic voters who were aware that their votes were not influential. If true, it's interesting that there isn't a similar effect visible yet in strong Biden states (though we don't have enough data in IL/NY/NJ/CA yet, so it may yet show up).
This steeply-increasing error could be a pandemic effect. Democratic voters were more public-health-conscious. It would be worth going back and surveying voters in red states to see if Biden likely-but-didn't-voters were deterred by the disease risk. One could test this by seeing if systematic errors were smaller in deep-red states with a lot of mail-in voting.
This may have mattered quite a lot in Senate races, where the polling errors were quite large: a median of 4.5 points, the largest such error in the last 20 years. I note that Senate candidates' vote share was more like the Trump vote share than their own polling:
I think there is more to this Senate story, but will leave it alone for now.
Among states where the voting margin is smaller than 10 points, the largest polling errors occurred in Iowa (7 points), Florida (6 points), and Wisconsin (7.5 points). Errors were smaller in Texas (3.3 points), Michigan (4.5 points), Virginia (3 points), and NH/MN/CO/ME/NM (less than 3 points). The following key states don't have enough counting to get a good estimate: OH, GA, NC, AZ, PA, NV. They seem unlikely to change the overall pattern.
Difficulty of sampling non-college and Hispanic populations? For purposes of following elections using polls, the other thing that needs explaining is the 2.6-point error. Exit polling shows that Trump gained support this year among non-college and Hispanic voters [GA] [TX] [WI]. Those groups are known to be hard to reach. Maybe the ones who responded to surveys were not a representative sample of those groups.
Or, to put it another way…these aren't monolithic groups. It would be a good idea to figure out how to stratify within each group and identify different groups. That might possibly be done by asking more questions about news engagement, social connectedness, and so on. It might not take long and one could even identify questions that don't poison later answers, a known problem in polling.
Shy…or just undecided? Another possibility is so-called "undecided" voters. They were thought to be a factor in 2016, but there were fewer of them this year. This year, they tended to vary inversely with Trump support, i.e. if undecideds went down by a point, Trump support went up. It is as if some Trump supporters were unaware of their own leanings. In 2008 I wrote about the cognitive science of how one could be unaware of one's own preference.