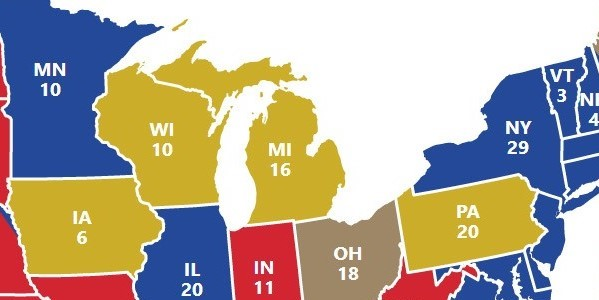 Based on traffic stats, the great majority of you arrived in the last few days. We're living out some likely events I suggested in September. First, mail-in votes are different this year. They are taking a while to count in Wisconsin, Michigan, and Pennsylvania. Second, given the Trump Administration's attitude to the law, it matters who is in charge of election administration, especially Pennsylvania.
It seems like a full vote count (for example, if mail ballots were not delayed; hi, Louis DeJoy!) would lead to WI/MI/PA for Biden, GA a toss-up, and 291 to 307 electoral votes for Biden in the end (or one less, if Trump wins Maine's 2nd Congressional District).
Three things are on my mind today: (a) voting rules matter a lot for the Presidency – and for the Senate, in Georgia and Maine; (b) polarization took over in Senate races, and (c) electoral reform took a major hit last night.
Also, there is no avoiding the question of the large polling error. It's hard to tell until all the votes are counted, but the error seems to be at least as large as the 2016 error of 3 percentage points. That puts the outcome in line with the PEC Trump+3% map, which shows a mode of 309 electoral votes. In Florida and Texas the polling error looks larger, 4-6 percentage points. That is huge.
I don't know why this would be. One possibility is that Hispanics are assimilating with other whites in self-identification. If they vote more like their white neighbors in both Florida and in New York, then they vote differently in those places, and would need to be sampled accordingly. However, I have to say it is starting to get tedious figuring out which polling error was made in each successive election.
Anyway, you see why I listed all the results in the banner in terms of a Meta-Margin, which among other things defines how large a polling error would have to be to create a perfect toss-up. I thought 5.3% was pretty large, but if the polling error were Florida-sized everywhere then there'd be even more 'splaining to do.
A huge practical outcome for 2021 is the Senate. Montana, North Carolina, and Iowa went Republican. It is the same pattern as 2016: every state went the same way for the Presidency and the Senate. Polarization wins again. That gets to 48 Democratic seats. It might still come out at 50 seats, the bottom of the range mentioned before. But it depends a lot on unusual voting rules in Georgia and Maine.
Note: Vote-counting is not done yet in North Carolina until November 12th. There are processes such as vote-curing taking place.
In Georgia, if a candidate does not initially get to 50% of the vote, there is a runoff election on January 5, 2021 – the day before the new Congress comes in. The open seat goes to such a runoff between Reverend Raphael Warnock (D) vs. Senator Kelly Loeffler (R-inc.). Warnock leads Loeffler in head-to-head surveys by 4-14 points. (Note that the polling error in Georgia appears to be pretty small this year.) However, turnout may well drop off in the Because of that, and because Loeffler has time to consolidate the Republican vote, Warnock still faces trouble. That's a key  difference between a top-two primary and a ranked-choice/instant-runoff system.
(But if you're not registered to vote yet, you can do so online!)
The other Georgia Senate race may also go to a runoff, though there is still a chance that Senator David Perdue (R) will make it over the 50% threshold. We should find out soon. The runoff eliminates a Libertarian candidate, which is bad for Jon Ossoff (D)'s chances.
In Maine, Senator Susan Collins (R-inc.) leads Sara Gideon (D) so far. However, she may fall below the 50% threshold. In that case, they do have ranked-choice voting. (Here at the Electoral Innovation Lab, we worked on a recent court case addressing the constitutionality of ranked-choice voting in Maine.) If independent progressive Lisa Savage gets more vote share than the difference between Collins and Gideon, then Gideon still has a chance to win – if enough of Savage's supporters pick her as second or third choice.
All of this goes to show how critically important the rules of democracy are. We're forced to live with the Electoral College, where a convincing popular win can be overwhelmed by the peculiarities of swing states. And the population distortions of the Senate, as well state-by-state rules, have big consequences.
Whatever happens in these races, the picture for electoral reform in the next few years just got a lot worse. National reform has to go through the Senate, which currently needs 60 votes to move legislation. Democrats probably needed 55 votes to lower that threshold, though who knows, maybe they can make a more modest rules change. Such a change would be needed to pass a new Voting Rights Act. In addition, if they can't even get to 50 votes, then I have no doubt that Biden's judicial appointments face an extremely difficult road in 2021.
Finally, there is the question of 2022. Democrats seem likely to lose seats then, putting them below 50 seats. So at most, they have two years to get anything done.
>>>
x
I haven't even gotten to the subject of state legislatures and ballot initiatives. There, my hardworking team here at Princeton was deeply involved. Because of that, and because of its importance, I will write about that story in a separate post. The picture is not all bad…but it's very much a blue-state, red-state story.