Don't forget, the states in gold started counting their mail-in votes today or last night!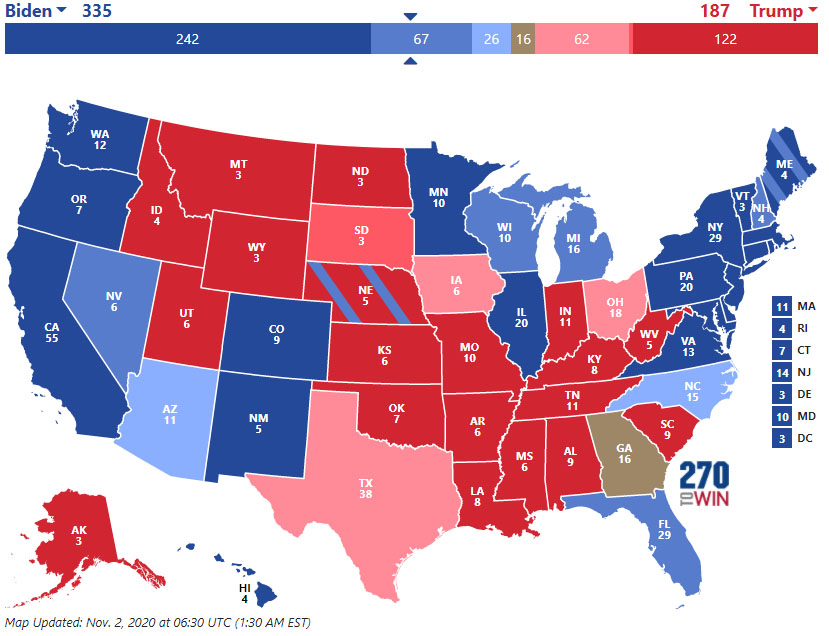 Above is the mode (single most likely combination) of this morning's poll margins and uncertainties, converted to individual state probabilities. The margin doesn't look that close, assuming the count proceeds in an orderly fashion in the coming days. How did we get here from 2016?
Last week at our Election Innovation Lab's Friday Forum, an eminent colleague from the Politics department reminded me of a defense of the Electoral College that has been forgotten lately: it amplifies the popular vote margin to create the appearance of a mandate.
For two obvious reasons, the popular-vote/electoral-vote inversions of 2000 and 2016, this has been forgotten. But in this year's unusual election, there is potential for this quirk to save us all from weeks of chaos. Here is why.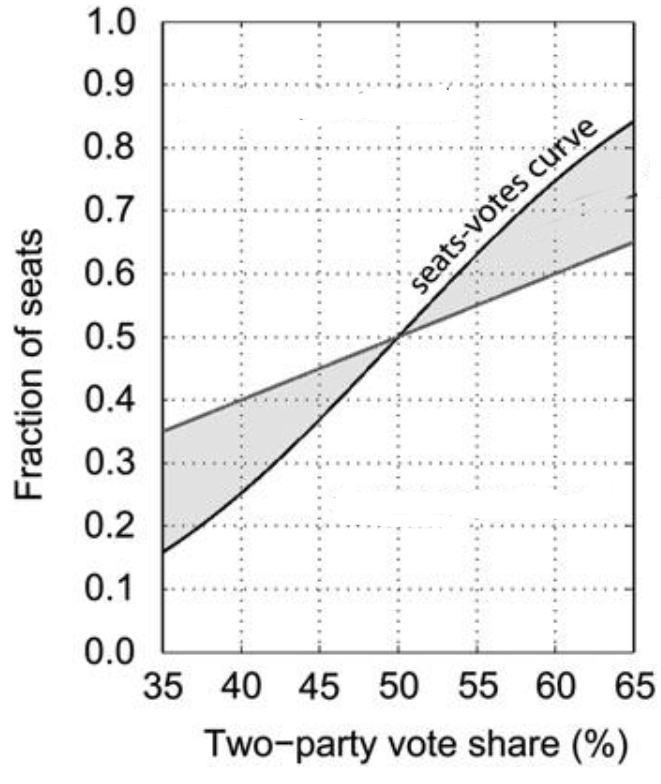 The core reason for this amplification is that winner-take-all races amplify the effects of popular-vote margins. Think about legislative and Congressional seats. If a candidate wins 51% of the vote, she wins 100% of her seat. If you add this up across many races, each with their own partisan lean, you end up with a translation of seats to votes that is nonlinear, looking like an S-shaped curve.
In this system, the popular-vote winner usually gets more seats. Typically a vote margin gets amplified by a factor of 2 or 3, depending on how much variation there is between districts, and the pattern of variation.
In the case of the Electoral College, the amplification factor this year is large, nearly 4. Biden's ahead of Trump by around 9% in national opinion, and the map at the top of this post corresponds to a margin of (351-187)/538 = 35% of the electoral votes. If this holds up tonight as the early-reporting swing states of North Carolina, Georgia, and Florida report in, then the appearance of an electoral landslide might help to stop the hurricane of lawsuits and unrest that the Trump campaign seems to be ready to unleash.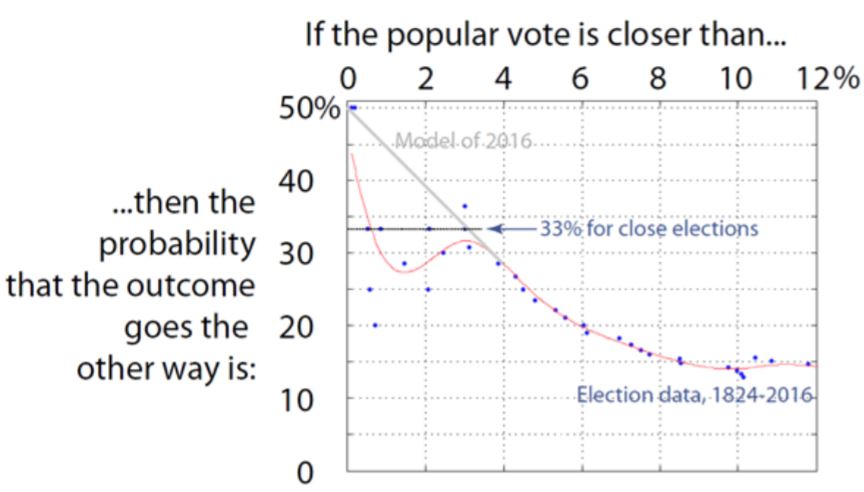 You can see why this argument hasn't been very hip lately. The popular-vote/electoral vote mismatches of 2000 and 2016 have pretty much killed this particular flavor of happy talk. I have calculated from historical election returns that over a wide range of political conditions, Presidential races with popular-vote margins closer than 3% will elect the second-place vote-getter in 1 out of 3 cases.
In short, the tradeoff is between the pleasing nature of a big blue or red map (recall Reagan 1984, or Clinton 1996, or Nixon 1972) and the risk of a game of Russian roulette whenever there is a close election.
This year, the Electoral College gives Trump a 2.5% advantage: a 2.5% popular loss would, on average, still give him even odds at winning the Electoral College. Biden is about 5-6% above that threshold. That's what defines the Meta-Margin in the banner above. It matches very well a Biden national margin of 8% or so in the popular vote.
If the polling error in key states in 2016, 3 percentage points, were repeated across the board, the electoral map would still favor Biden:
However, this isn't the biggest question this year. The question is what will happen as counts trickle in. Specifically, the states in gold below are only now starting to count their mail-in ballots. So to get a resolution of the Presidential race, we really need North Carolina, Georgia, and Florida to weigh in tonight.
The counterargument to this defense of the Electoral College is to consider the possibility of a national popular vote. If the election were held in that manner, Biden's likely popular margin over Trump would be in the range of 13-14 million votes. That would also end the argument, and with much smaller risk of disputes. We also wouldn't have this weird fascination with swing states, at least for the Presidency. Instead we could focus on Senate and local races, which are critical to the functioning of our democracy. So, like I said, two cheers for the Electoral College!