We have an unexpected new Redistricting Moneyball state: Nebraska!
The Nebraska legislature will affect the redrawing of Congressional districts, which matters both for the House and also for the Presidency. How'd we figure it out, and how can you help in the final days of the campaign?
Analyzing Nebraska was harder than other states. The legislative chamber (there's only one, called the "unicameral") is nominally non-partisan. However, we figured out a way to make it work.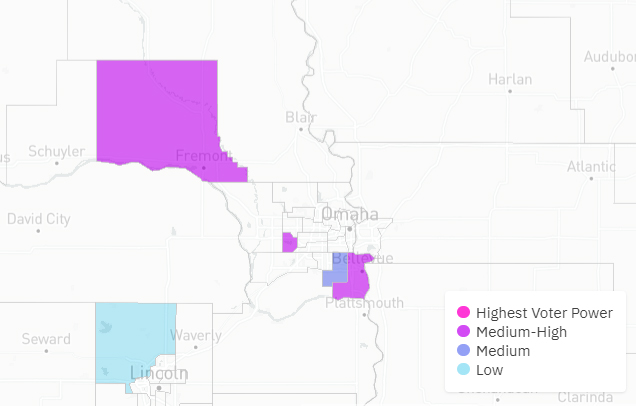 The unicameral's members, called senators, are nominally non-partisan. However, nearly every one of them is affiliated with the Democrats or the Republicans. It's a strongly Republican body. But like the United States Senate (for now anyway), a two-thirds vote is required to advance legislation. Currently, Democrats have enough votes to force bipartisan compromises – and it appears they have a good chance to keep things that way.
To figure this out, we first had to identify partisan affiliations. Then, using district ratings, we estimate an 83% probability of maintaining bipartisanship. Since we define the 15% to 85% range as the zone of uncertainty, Nebraska is therefore a Moneyball state.
Partisan gerrymandering is possible whenever there are at least three districts – and that's the size of Nebraska's Congressional delegation. The 2nd Congressional District, encompassing Omaha, is currently a swing district. Indeed, it may vote for Biden over Trump this year. That's significant because Nebraska awards electors by congressional district. So keeping the 2nd District competitive has consequences both for Congress and for the White House.
Nebraska is now added to the list of the Moneyball states. You can find top Nebraska candidates on the candidate list for ActBlue. And as always, other Moneyball states where Republican wins can bring about bipartisanship are listed in the WinRed link.