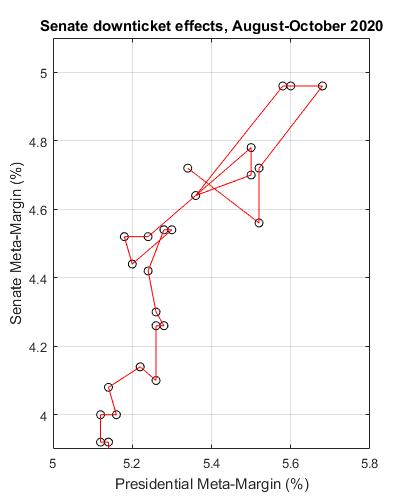 In surveys conducted October 1-4, surveys show Biden up by a 10.0 +/- 0.6 percentage points (7 surveys, median +/- estimated SEM). If sustained, that's a larger popular margin than Obama 2008 (7.3 points) or Clinton 1996 (8.5 points. The last larger win was Reagan 1984 (18.2 points).
The Presidential Meta-Margin, on the other hand, is now only Biden +5.5%. It's based on state polls, which aren't as fresh as national polls. The typical gap between the Meta-Margin and the national margin has been 2-3 points, which is a measure of Trump's advantage in the Electoral College. If this holds up, once state polls catch up we might expect the Meta-Margin to hit Biden +7% or +8%.
What will be the downticket effects? The consequences could affect as many as 5 Senate races, 6 state legislatures, and redistricting of over 90 House seats for a decade.
Senate races tend to move in the same direction. In the graph above, the Meta-margins for Senate and Presidential are strongly correlated (r=+0.86). Whatever drives one, also drives the other. (Each point is one day, and the line segments join consecutive days.)
What could these reasons be? One obvious reason is that straight-ticket voting is on the rise. As we become more polarized, party preference overwhelms other considerations.
Another possibility is non-response bias, i.e. from week to week, pollsters have a slightly easier or harder time reaching voters. Although this has been investigated, I don't think anyone can say with confidence that differential non-response bias is the sole cause of ups and downs – or whether sometimes a change is real.
Whatever the underlying cause of this relationship, it's likely that we will see some changes in Senate races in the coming weeks. Senate polls are updated less frequently than Presidential state polls, and therefore take a bit of time to catch up. I would expect Senate polls, in the aggregate, to move toward Democrats by about 2 points in the weeks ahead (unless of course the Presidential races swings back away from Biden).
Currently, Senate races show poll medians that are within 1 percentage point in either direction: Alaska, Kansas, Iowa, South Carolina, and Georgia. If the deterioration for Trump affects those races, it would have a huge effect downticket. Losing all five races, Democrats appear to be headed for 50 seats. Winning them, Democrats could get to 55 seats. That makes a big difference in terms of legislation in 2021 – and maintained control in 2023.
There are similar consequences for redistricting. A few percentage points could affect single-party vs. bipartisan control of redistricting in half a dozen state legislatures (see our Redistricting Moneyball feature). Those states (TX, NC, FL, KS, MN, CT) will re-draw around 93 Congressional seats, more than one-fifth of the chamber. The effects would last a decade.
You can make a difference in these races by giving in the ActBlue and WinRed links in the sidebar. In the ActBlue, redistricting and Senate races are grouped separately.