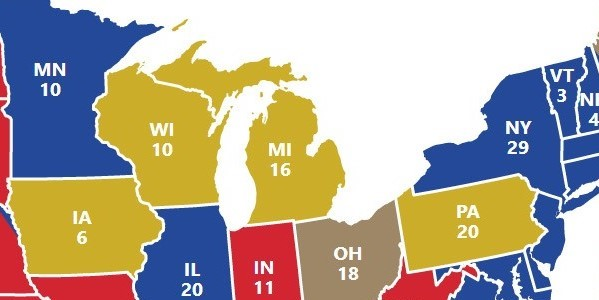 This year, how long might we have to wait to find out the results to the Presidential election? The National Conference of State Legislatures has compiled laws and policies for 2020 for processing and counting absentee and mail-in ballots. By combining them with current polls, we can get an idea of what we will know on the evening of November 3, Election Night.
This is important because Trump is riling up his base with talk of not accepting the election results. He has made false claims of security risks associated with voting by mail. If close states report early counts of in-person votes with him in the lead, and that lead takes days to disappear as all the votes are counted, that could cause unrest. Could it be like Florida 2000, except more like Wisconsin/Michigan/Pennsylvania 2020?
Quite a lot of states do not allow absentee/mail-in ballots to be processed until Election Day or the day before. In past years this has been less of an issue. But this year, it is possible that a great majority of votes will be cast via the mail. And there's a huge partisan divide: in surveys, those votes heavily favor Joe Biden (D), while in-person votes favor President Donald Trump (R). In states where in-person votes are counted and reported first, Trump might appear to be ahead, but the true result would not be known for days.
If we fill in the above map with the likely results from states that aren't in much doubt, the picture becomes clearer: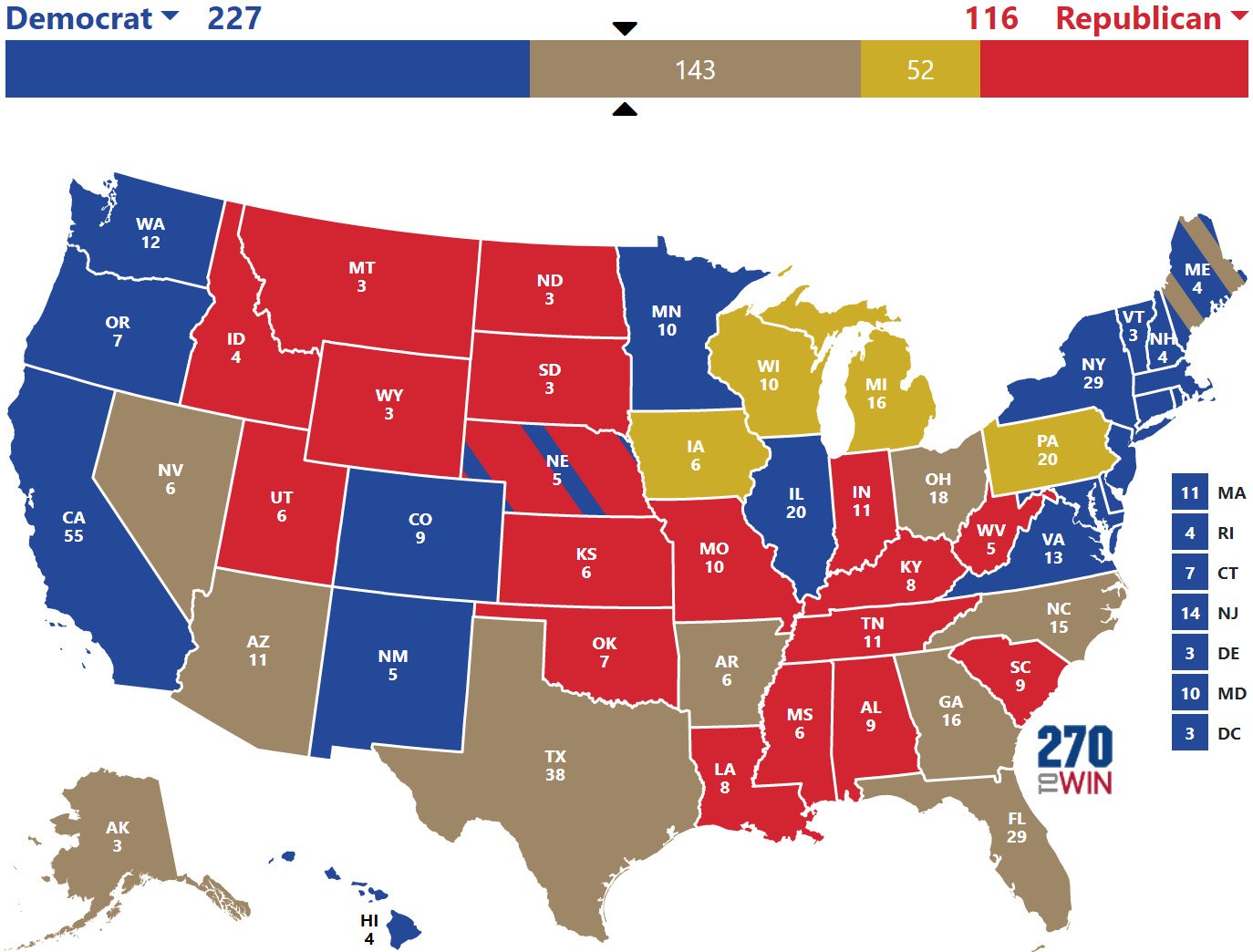 By the evening of November 3, Biden will be the likely winner in states totaling 227 electoral votes, while Trump will have won 116 electoral votes. In addition, counting may be nearly done in a number of states where polls currently show the race within 5 percentage points. In Florida, which allows ballots to start being processed 22 days before Election Day, Biden currently has a lead of 3 points (median of 8 polls over the last two weeks). If he wins Florida, that's 256 electoral votes.
Ohio, Texas, North Carolina, and Georgia are all near-tied at the moment. Biden would only need one of them to get to 270. But what if Trump won them all?
Finally, there are four states where the absentee/mail-in count will only begin on November 2 or 3: Wisconsin, Michigan, Pennsylvania, and Iowa. Three of those states were won unexpectedly by Trump in 2016, putting him over the top to win that election. They add up to 52 electoral votes in all. If the election is close, this is where the drama will be.
In one good sign for an orderly count, Wisconsin took a responsible approach to its primary in April, in which 80% of the votes were cast by mail. Final results were not announced until the following week. That was a wise approach, and likely avoided undesirable drama. Hopefully they and these other states will do likewise in November.
See our previous post on the state-by-state risk of interference with vote-counting.