While the Presidential election is hogging most of the attention, there are literally thousands of other races on the ballot. All 435 US House of Representatives seats, and a large Senate class (35 elections) are up for grabs. These races will have a massive impact on legislation and the composition of federal courts.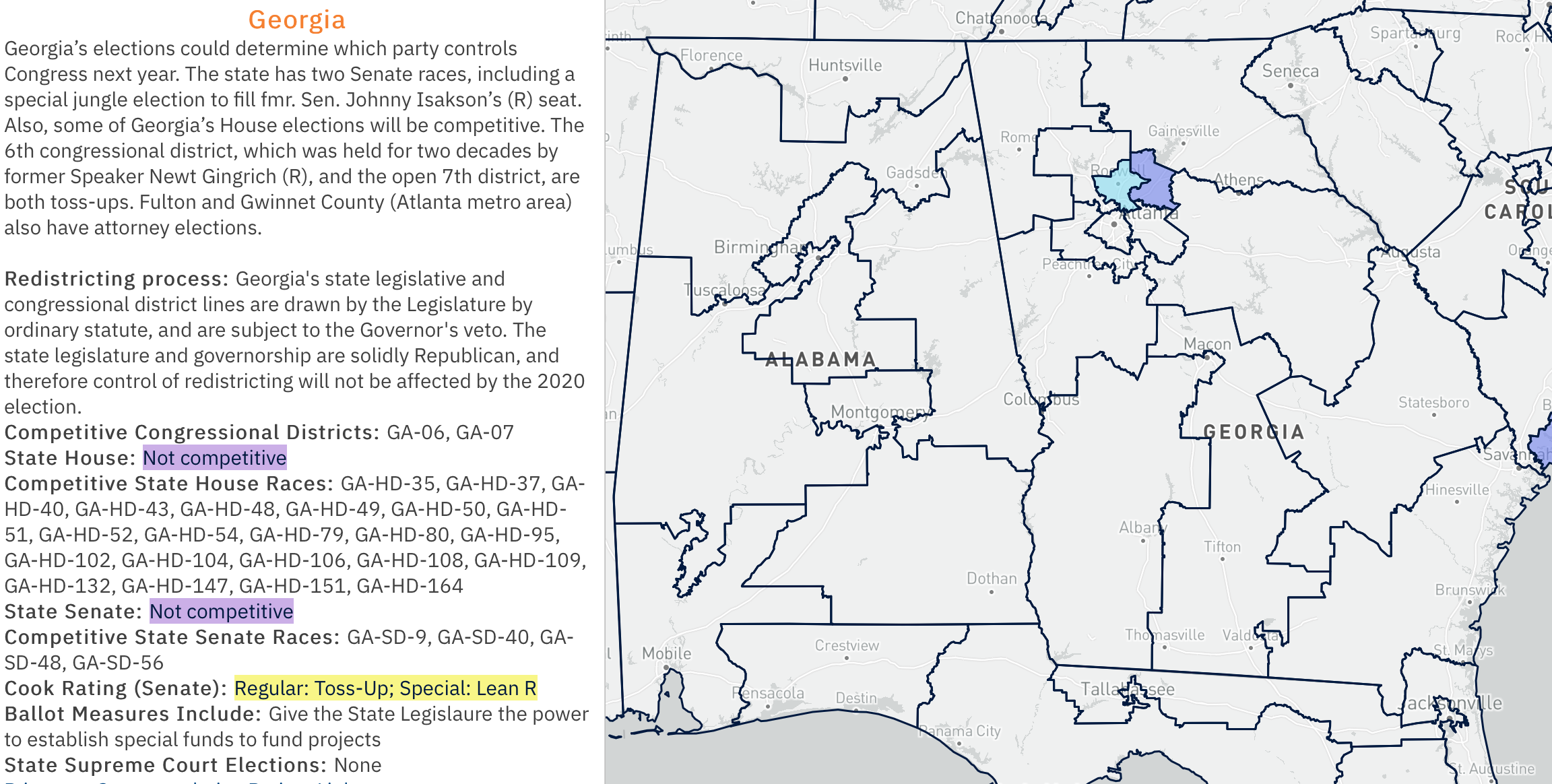 Our 50-state guide to the election is designed to ensure that these downballot races are not overlooked. In addition to noting which U.S. House and Senate seats are competitive (using Cook Political Report rankings and our own measure of voter power), we have also noted major ballot initiatives, Supreme Court elections, state legislative and local races for each state.
Last month, we introduced our readers to our 2020 Redistricting Moneyball project, a model built to locate which state legislative elections will have the most impact in preventing partisan gerrymandering for the next decade. Beyond redistricting the power that state legislatures have is immense; of the 99 state legislative chambers in the country, 86 will have elections this fall. Just like Moneyball, we point our readers to which races (according to CNAlysis) are most important for determining control.
Lastly, in a year marked by social unrest and protests for racial equality and the criminal justice reform, there will be more than 2,300 elections to determine local prosecutors, and sheriffs. Leaning on The Appeal's Daniel Nichanian, we have also marked localities with key criminal justice races.
If we missed something or made a mistake, reply in comments or let our team know directly! Between now and Election Day we will be refining and updating our guide to ensure it is as useful as possible.
At a state and county level, you can take advantage of our research and donate to the most high-impact races using our PEC 2020 ActBlue (for Democrats) and PEC 2020 WinRed (for Republicans).
Who did the work: Map interactive, Hope Johnson. Site administration, Mike Hallee. Content intern, Adam Krauss. Moneyball redistricting, Jacob Wachspress, Connor Moffatt, and Chaz Nuttycombe of CNalytics. Project editor, Zachariah Sippy.