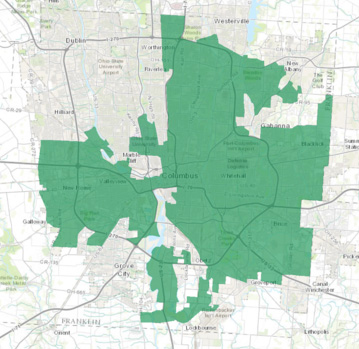 Since the start of the 20th century, only twice has Ohio failed to support the national Presidential winner (in 1944 and 1960). Thus the common political adage, "as Ohio goes, so goes the nation." That seems not to be true in 2020, since Ohio is now a few points more Republican than the median electoral vote.
However, there is a more important reason to vote this fall in the Buckeye State— two Supreme Court races. These judges serve for 6 years and affect voting rights and redistricting, which lasts for 10 years, time horizons that outlast the presidency. These races are examples of state elections that provide critical reasons to turn out this November, as we've documented in our PEC 50-state guide to the 2020 election.
Right now, Ohio does not even fall in our top ten states for Voter Power. Our calculation of an individual voter's ability to help get Biden or Trump to the tipping point of 270 electoral votes. The tipping point states have mostly moved south and west. There is not a US Senate seat up in the state, and only one competitive Congressional seat thanks to a statewide partisan gerrymander.
Ohio has one of the most nefarious gerrymanders in the country. In 2011, with unified control of the state government, Republicans drew a map that guaranteed them 12 of 16 congressional seats. The gerrymander explains why even though Democrats won more than 47% of the statewide congressional votes in 2018, they only took 25% of the state's seats.
Then comes some good news. In 2018, Ohio voters passed a constitutional amendment that established rules designed to make a fair redistricting process more likely. Under the new law, the State Legislature remains tasked with redistricting, but is now required to earn at least 50% support from the minority party (i.e. the Democrats). If this process fails, the decision falls to a Republican-dominated commission, which also requires some bipartisan input. If this commission fails, then the Legislature is allowed to draw the new maps on a party line vote, but they would only last for 4 years, rather than the decade.
All disputes regarding the redistricting process will be adjudicated by the State Supreme Court. The Court currently has a 5-2 Republican majority. However, in 2020, two seats are up for grabs. If Democrats win both, there would be a narrow 4-3 liberal majority. This would provide a check on the Republican-dominated legislature and redistricting commission.
Generally speaking, Ohio Supreme Court races represent an exception to the trend toward Republicans in statewide races. Democrats won two Supreme Court seats in 2018 and one seat in 2012. Overall, Supreme Court seats are 1.2 points more Republican than top-of-ticket races, with a standard deviation of a whopping 22 points (N=10 races from 2012 to 2018; calculations here). So there's a lot of room for Ohio voters to evaluate judges on their own merits.
Both races are potentially competitive. Republican Justice Sharon Kennedy is running for reelection, she first took the office in 2012 after beating an incumbent Democrat by 14 points. She is running against Democratic Judge John O'Donnell, who ran unsuccessfully for the State Supreme Court in 2014 and 2016, both times running ahead of the explicitly partisan races at the top of the ticket.
The other incumbent Republican justice, Judith French, defeated O'Donnell for her seat in 2014 by 11 points. Now, Justice French is running to defend her seat, with Democratic Judge Jennifer Brunner, the former Secretary of State, as her opponent. Both Brunner and O'Donnell have prior experience running in statewide election, and are strong candidates.
In addition to important decisions on voting rights, and redistricting, Ohio Supreme Court serves as the chief appeals court in the state, including death penalty cases. Currently, it is also considering whether teachers can be armed in schools. These seats will be consequential for many reasons.
For information about other key local races in Ohio, click here.