Today in Maine, ranked-choice voting will be considered in federal court for the third time. And our team at Princeton has weighed in.
In 2018, ranked-choice voting was used for a federal election for the first time anywhere in the United States, in the 2nd Congressional District of Maine. And it made a difference. Minor-party voters were able to express their first preference, without fear of throwing their vote away. They could then give their support on later rounds to either Jared Golden (D) or Representative Bruce Poliquin (R). In the end, their support was enough to elect Golden to the House seat. Over 95% of voters' preferences were used in all rounds of vote-counting, including thousands of minor-candidate voters.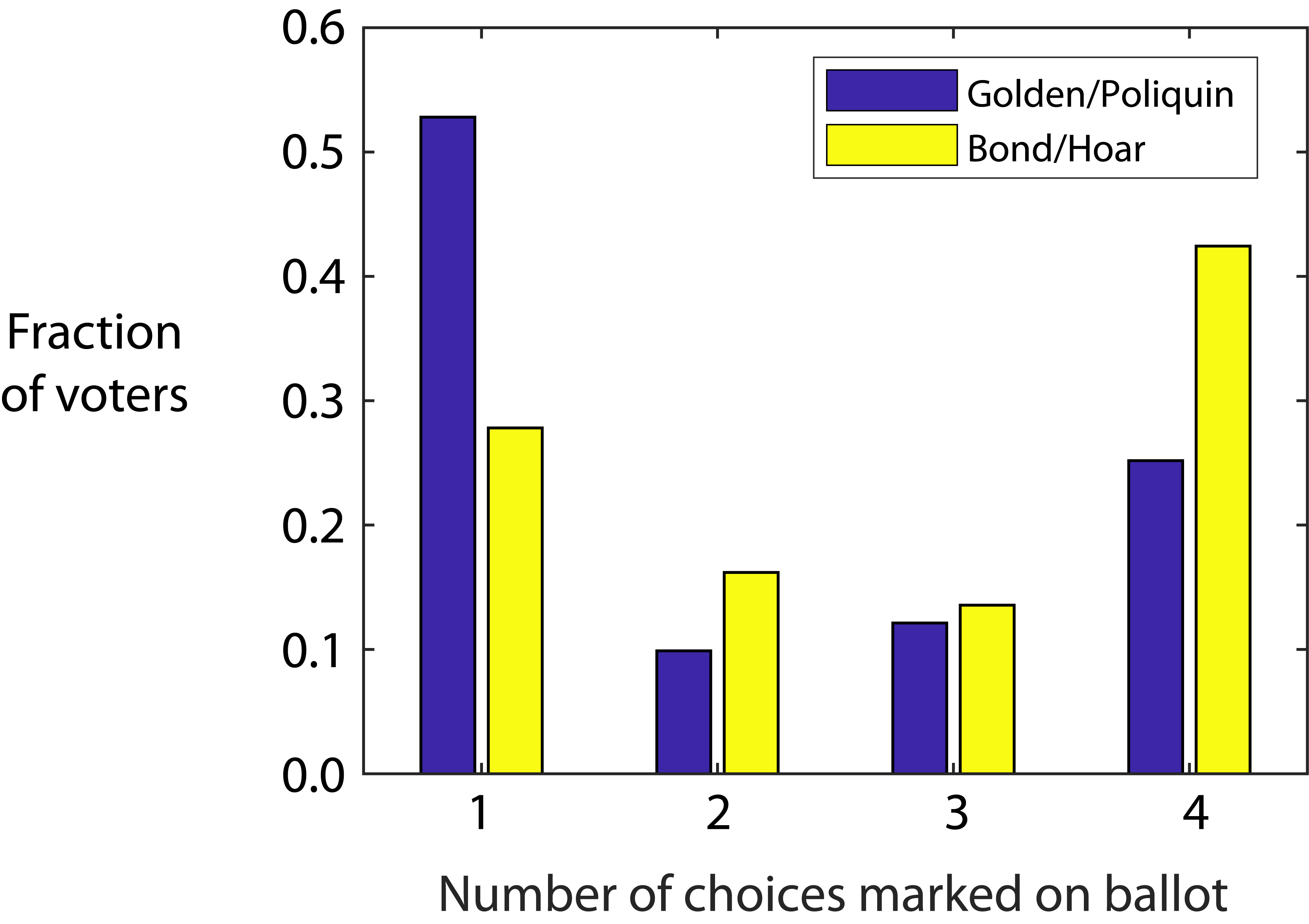 Minor-party voters were highly strategic in thsir use of the ballot, most often ranking all the candidates. In contrast, Golden and Poliquin supporters' most frequent choice was to stop after making one choice.
However, plaintiffs have introduced a novel definition of participation. They argue that supporters who made only one choice didn't fully participate. Therefore, they claim, ranked-choice voting impairs democracy. Their brief is here. My team here at Princeton took a look at the brief. We found the arguments to be deficient, and we shared some of our thoughts with the court as an amicus brief.
Today Judge Lance Walker, who has turned down several previous challenges, holds an evidentiary hearing. It may provide a first look at how the case will unfold.
Update: Basically, the plaintiffs' attorneys claimed that their voting rights were impaired by ranked-choice ballot. Notably, all four plaintiffs were Poliquin voters – and therefore all of them had their choices registered in the final tally, no matter how they marked their ballot.
At the end, Judge Walker seemed to say that for there to be a justiciable controversy, voters must be burdened in a way that is specific to the Ranked-Choice Voting Act (as opposed to a general hazard of any kind of voting). He said that in plurality elections, difficulties are not enough to make a constitutional harm. Then he wanted to know: is there some threshold fraction of voters who were confused to constitute a harm that requires intervention? Counsel for plaintiffs, Obermeier, said that the threshold could be very low on account of how important the right to vote is. Overall, Judge Walker was skeptical that this case was any different from a 2018 case, Baber, in which he held that RCV did not pose a constitutional harm.