Presidential models are mainly of interest in close elections, which have been the norm since 2000. This year, Joe Biden occasionally gets within sight of 400 electoral votes, which we haven't seen since Bill Clinton or George H.W. Bush. In addition, U.S. Senate and state legislative races are of paramount importance. So we've spent less time on the Presidential race.
But today, let's drill into the presidential model a bit. It's modified to take into account lessons from 2016. In this piece we'll tell you Joe Biden's November win probability – but also why we are deemphasizing it.
At its core, the PEC Presidential model is the same as in 2012 and 2016. It starts with a snapshot of current polls, converting them to a virtual lead in terms of the Electoral College. That virtual lead, which corresponds to popular support, is called the Meta-margin. The race would have to swing by that much toward the underdog to create a perfect electoral-vote tossup. The Meta-Margin is a sharp measure that responds promptly and with low noise to political events. An example is Trump's response to the coronavirus pandemic in mid-April.
To generate a prediction, the Meta-margin is projected forward in time by assuming drift in either direction. That assumption takes the form of a distribution that captures (1) movement in opinion in either direction, (2) a systematic, correlated error in polling across all states, and (3) the likelihood that conditions will revert back to some expected average (the Bayesian "prior"). The Bayesian prior assumes that Trump is likely to perform in the range that he has from February until now, in other words somewhat better than current conditions.
In response to 2016, we've changed the drift function. On time scales of greater than two months, the drift is set smaller because volatility in public opinion has gone down so much since the mid-1990s. But more important, in the home stretch of the campaign, the drift function never gets smaller than two percentage points. This takes into account the polling error of several points that occurred in 2016.
Here is what the drift function looked like in 2016 versus now: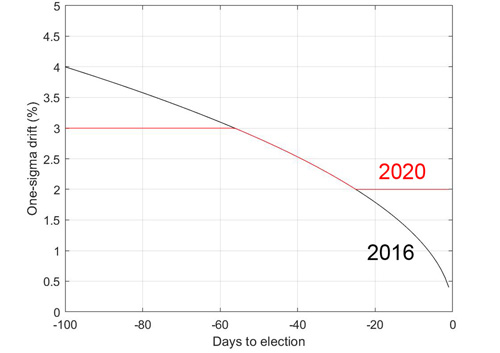 As you can see, it now has a pieced-together look. But for what we need, a "hurricane strike zone" in November, it will do.
The red "hurricane strike zone" represents the one-sigma range, where about two-thirds of outcomes will fall. Yellow represents two-sigma, or 95% of outcomes.
The new drift function would have given Hillary Clinton about an 80% win probability in 2016 on the night before the election, as opposed to what we published on the home stretch, 93%.
With the new increased uncertainty, the random drift probability currently shows a high win probability for Biden. If you want to track it, it's in the data folder. The Bayesian probability, which is higher, is the first value. However, these probabilities do not get into factors that are exogenous to the polls, such as difficulties in voting by mail. They are also not what I consider to be the main product of the model. I strongly advise you to think twice before focusing on it.
As I wrote in the aftermath of the 2016 election and again in the Columbia Journalism Review, probabilities are the wrong unit of measure for 2020. They encourage complacency rather than active citizenship. And more than ever, now is the time for active citizenship.
Instead, we are emphasizing the Meta-margin. At 6.4 points favoring Biden, this means that the margins would have to move, or be wrong, by that much to create tossup conditions between Biden and Trump. That is more than twice as large as the polling error in 2016.
More important than the Meta-margin is voter power. We are emphasizing voter power for three types of important races: the Presidency, U.S. Senate races, and state legislative races. Voter power is defined as the ability of one or a small group of voters to move the probability of one of three important questions:
President: providing tipping-point support to get Biden or Trump above 270 EV.
U.S. Senate: providing tipping-point support to get 50 Democratic plus independent seats.
State legislatures: providing tipping-point support to gain control of one chamber of the state legislature, in states where this would lead to bipartisan control over redistricting.
In all cases, voter power tells you where to put your efforts as a citizen. It's what we are calling the "Moneyball 2020" approach.
As of today, the states with highest per-voter power are:
President: Nevada, Arizona, North Carolina.
U.S. Senate: Montana, Alaska, South Carolina, Kansas.
State legislatures: Kansas, Texas, North Carolina.
States listed more than once are in italic.
Voters in North Carolina are especially powerful this year. That is no surprise, since North Carolina is such a regular partisan battle ground. But there are also some surprises: Montana, Texas, and most of all Kansas.
In weeks to come, we will dive into some of the states and explain why they are so important.
If you like what we do, you can contribute to the Princeton Gerrymandering Project. If you want to support your favorite candidate, you can give in the right side bar to ActBlue for Democrats (state legislative or U.S. Senate) or WinRed for Republicans (both categories combined).