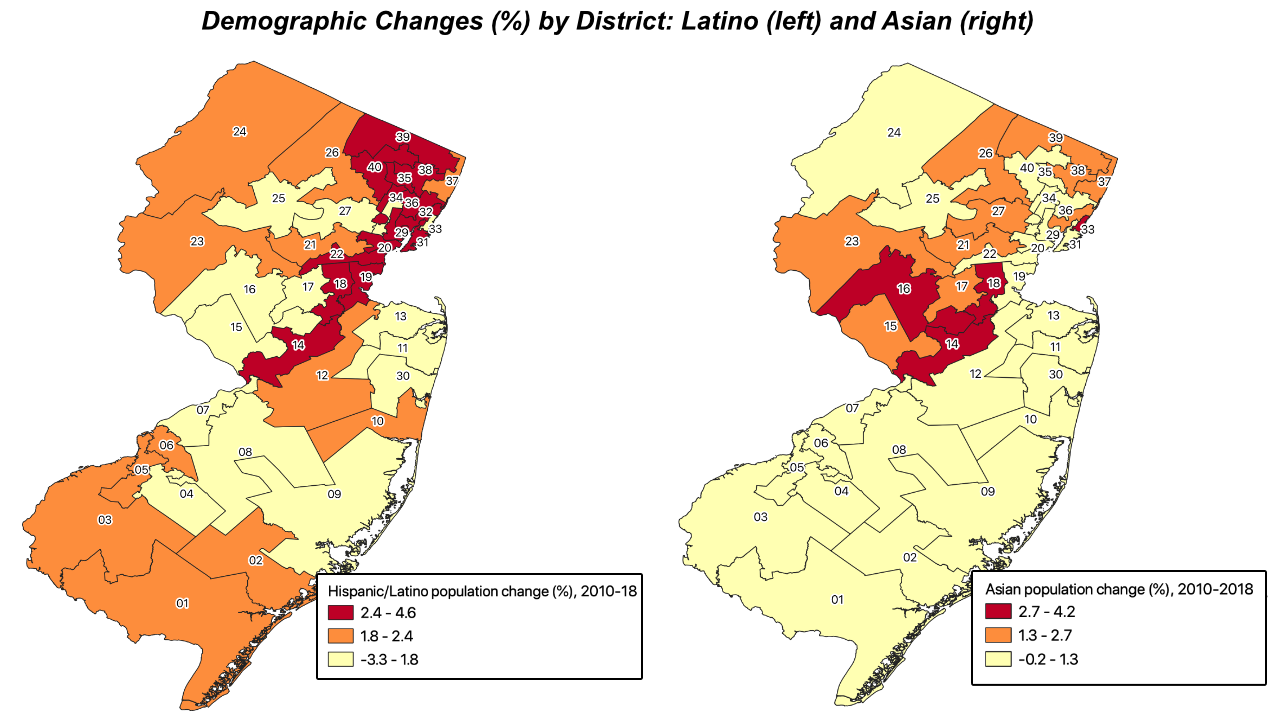 (Maps show percentage-of-total-population increase; click to enlarge)
A proposed amendment to the New Jersey constitution, Assembly Concurrent Resolution (ACR) 188, is under consideration by the state legislature. At the Princeton Gerrymandering Project we find that its likely effects are opposite to those intended by its supporters. It has the potential to delay representation for Latinos and Asians in 2021. In decades after that, it will give away New Jersey's power to future Presidents, whether Democratic or Republican.
Since the 2010 census, Latino and Asian populations in New Jersey have increased by 410,000 (see map and our statement). Based on how they are distributed, we estimate that three new districts could be drawn to give either of those two groups, or coalitions that combine them and Black voters, the opportunity to elect legislators of their choice*.
Normally, this would happen in 2021. But if ACR188 becomes law, those changes might not be realized until three years after the Census, in 2023.
According to the American Community Survey (a Census Bureau product), Asian and Latino growth is almost twice as large as the total statewide population growth of 223,000. Most of the Asian/Latino growth, around 300,000 people, has occurred in a cluster of 7 northern counties (Bergen, Essex, Hudson, Middlesex, Passaic, Somerset, and Union). Asian and Latino growth is part of a broader story of a population shift from southern to northern New Jersey.
ACR188 states that if Census data is delivered after February 15, legislative redistricting will be delayed. The risk of a delay is real: at this point, it is known that Census counts will be delayed by months. Proponents of ACR188 have expressed concern about a possible undercount. However, a delay effectively leaves any growing community uncounted (i.e. because they are not reflected in new district lines, they may as well not have been counted). In general, underrepresentation from bad districting has larger effects than even the worst undercount. Even if a correction did occur, there is no way to restore those three opportunity-to-elect districts for 2021.
It is certainly true that an undercount can be damaging to the citizens of New Jersey, but that damage comes outside the domain of redistricting. For example, federal housing support is given on a per-capita basis. ACR188 doesn't address that problem.
The amendment's problems continue past 2021. A February 15th deadline is quite early; the federal government missed this date as recently as 2001. A future President could exert control over when New Jersey redistricts by simply holding back Census data until February 16th. Such a delay is well within a President's authority, since the statutory deadline for sending data is April 1. ACR188 assigns some control over the timing of future redistricting to whomever is President at that time.
Unfortunately, we're at a late stage of the process, there is no time left to modify ACR188. A simple approach would be to let it fail. Without it, the redistricting commission could receive data as late as July 1, 2021 and still draw districts in time to hold a primary and general election that same year (see hypothetical timetables here). And data release by April 1, 2021 allows the possibility of a mostly normal timeline.
The amendment was also a missed opportunity to enact true redistricting reforms that New Jersey redistricting and legal experts have advocated, such as more independent commissioners and true independence from the legislature. There is a little good news, though: if ACR188 passes, there would be more time for these reforms to be considered.
*Specifically, District 36 has a Latino share that rose from 37 to 40%, and District 18 has an Asian share that rose from 28 to 31%. District 18 has an Asian and Latino combined population that rose from 37 to 40%. All of these increases could indicate new opportunity-to-elect districts, either in these locations or nearby.