It looks like the Presidential state-poll snapshot is heading for a near-tie. This should become evident in the PEC analysis by the time of the first debate. I believe this will be a temporary situation. It will take at least until after the first debate on September 26th to find out.
National polls currently show Clinton ahead by only 1.0 ± 0.6 % (median ± estimated SEM, 7 pollsters with at least some post-Phlegmghazi respondents). However, our state poll-based analysis moves more slowly. I expect the Meta-Margin to keep on moving toward Trump for at least a week as state poll medians catch up. To get an idea of where the PEC analysis will head in the next few days, see electoral-vote.com, whose main map displays the most recent single poll for each state and therefore is noisier than my calculation – but more up-to-the-moment.
I estimate that if we had up-to-date data in all states, in an election held today the Presidential outcome would be extremely close, approximately like the map below.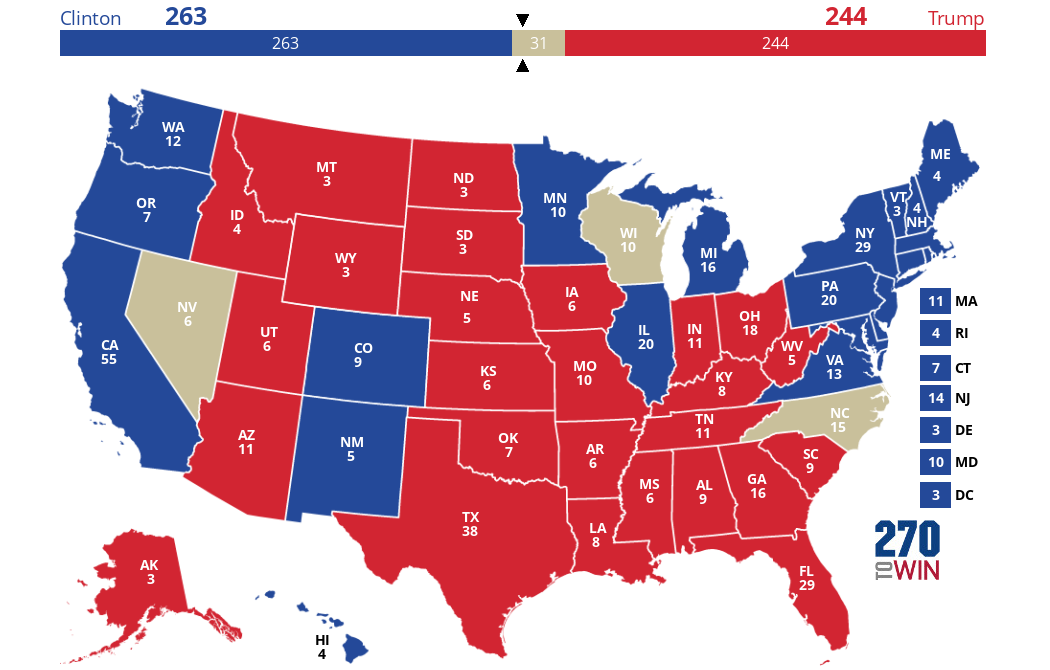 Click the map to create your own at
270toWin.com
If the election were today, it would be a nail-biter. But as Glenn Thrush at POLITICO points out, there are lots of ways for Clinton to recover.
Today, I will go over some reasons that may make Clinton supporters (and Trump opponents) feel concerned.
1. National polls have narrowed. Seven polls that include post-September-11 respondents show Clinton ahead by 1.0 ± 0.6 % (median ± SEM, 7 polls), quite close. Compare that to the last week of August, which showed Clinton ahead by 4.0 ± 0.9 % (10 polls).

The narrowing of the race seems to be driven by a break in undecided voters toward Trump. Since early August, Donald Trump has gained about 4 percentage points and undecided voters have decreased by a similar amount. At about 42% support, Trump is nearing his previous highs for the year.
Until now, undecided voters have been running about 4 points ahead of where they were in 2012. Many of those undecideds were probably disaffected Republicans unwilling to support Trump, a radical candidate unlike any that the U.S. has seen in over 100 years. Trump is not saying a lot relative to his usual inflammatory and divisive statements. It appears that this approach of keeping relatively quiet is bringing home the Republican base – and increasing his favorability rating. We will see how long he can keep it up.
If you were to extrapolate this trend linearly, by Election Day, 52 days from now, Donald Trump would win the popular vote by 10 percentage points…and there would be negative 5% undecided voters. This is obviously impossible. But silliness aside, it is within the realm of possibility for Trump to take the lead, at least temporarily.
I still expect Clinton's lead to increase again, on the grounds that she has led all year. This is basically the concept of regression to the mean. Previously, I noted that the national Clinton-vs.-Trump margin in 2016 has averaged 4.5 percentage points. The standard deviation is 2.2 points, comparable to the four Presidential elections from 2004 to 2012. Such a small standard deviation indicates very high stability, consistent with the intense voter entrenchment of the last 20 years. If conditions swing back toward Clinton, especially after the first debate on September 26th, I can imagine the stories now: "Clinton shows renewed vigor" or something like that.
Despite the lack of big ups and downs this year, it is important to remember that the large number of undecideds and minor-party voters provides a source of uncertainty. We have to wait to see how they shake out. As we see with today's conditions, recent changes have benefited Trump.
It is usual for support for minor candidates to fade in the home stretch. Johnson and Stein get strong support among young voters, a group that would otherwise be expected to tilt strongly Democratic. A big hope for Hillary Clinton must lie in bringing these voters back. Maybe Clinton should bring out Bernie Sanders, Elizabeth Warren, or some of the entertainment celebrities who showed up at the DNC.
Technical note: The Presidential model's Bayesian prior does contain the possibility of a big swing in undecided and minor-party voters. First, the prior's standard deviation was set to 3%, somewhat larger than recent elections. Second, it was set to have "fat tails" by using the t-distribution with 1 degree of freedom instead of the usual bell-shaped distribution. Under the latter assumption, a swing of 2 standard deviations would occur almost 15% of the time. If Trump wins, it was still in the model as an unlikely but not impossible scenario.
2. State polls are still narrowing. The advantage of national polls is that they provide information quickly, within days. But national polls are less accurate than state polls, and worse, do not reflect Electoral College mechanisms.
This is where the Meta-Margin comes in. The Meta-Margin acts like a regular Clinton-versus-Trump margin, but it is based on all state polls. It measures the amount of across-the-board swing in opinion that is needed to tie up the Electoral College. However, it is dependent on the availability of state polls, which dribble in slowly.
The coming 1-2 weeks will probably feature a steady drip, drip of state polls favorable to Trump. Likewise, the Meta-Margin will move toward zero over the coming week, and could even favor Trump at some point. Do not interpret that as new information. That is just the same information that we already know now, expressed at the level of individual states.
3. Are Trump supporters undercounted in polls? In a phenomenon called the Bradley effect, it used to be that poll respondents tended to vote for minority-group candidates a bit less than their answers would indicate. This idea has been used to suggest that additional Trump supporters are lurking in the wings, but are unwilling to admit their possible racism to a human interviewer.
I doubt that there is any hidden bonus for Trump. The Bradley effect was never more than about 2 percentage points, and in any event, it disappeared a few decades ago. A research finding from Morning Consult earlier this year suggested that Trump's support was lower in live-interviewer polls than in computer-conducted "robopolls" has been the same – but later analysis has not confirmed this result. That original report probably arose by chance or had deficient statistical methods.
Finally, I note that Trump's support in the primaries was very close to what polls indicated. In all probability, polls will do fine this year.
Having said that, because state polls have not yet caught up with national polls, it is useful to see what would happen if one candidate got a boost in state polls. Over in the right sidebar are links you can click if you want to see what would happen if Trump had 2% more support than state polls currently indicate. That probably gives a good picture of the true state of the race today. Conversely, once the Meta-Margin gets closer to zero, the regression-to-the-mean concept suggests that a Clinton recovery would become likely. At that point you can click on the Clinton +2% link to see where things might head.
4. What about downticket races? Four indicators seem to move roughly in unison: the Presidential race, the Senate, the House generic, and the current President's approval ratings. This is consistent with the nationalization of politics that has emerged in the last 20 years. After the national party conventions, all four measures moved toward Democrats. Now all four measures are moving toward Republicans.
This coordinated movement does not seem entirely consistent with the idea that undecided voters who moved to Trump were disaffected Republicans. Shouldn't they have shown up all along in polls as supporting downticket Republicans? This could be a quantitative issue of how much each indicator moves – for example, the Senate aggregate has not moved as much. Or there's some other mechanism at work, such as differential rate of survey response.
>>>
The close race that we see today is not likely to last. Odds favor a swing back toward Democrats, but this is not certain by ant means. It will take a little while to find out – maybe a week, maybe longer. A good number to watch is the median of national polls.
Many of you might want to have an impact on what happens in November. The most effective use of your time and money is to work on races that are closest to the edge, i.e. in the 20-80% probability range. In the right-hand sidebar, The Power Of One Vote lists states where individual voters have the greatest potential to influence (a) Senate control, and (b) the Electoral College outcome (click through for that). Those are good places to campaign. Depending on your political preference, you can also contribute using the ActBlue/NRSC links on the left.