Media types want you to get your knickers in a twist about Indiana. However, the data suggests that it doesn't matter any more. Rationally speaking, it is probably time to stop writing so much about the Republican race for delegates. Also, may we have a moratorium on "brokered-convention" articles please?
Today I write about the PEC delegate snapshot. It is based on data posted here. All polls are current, including Trump +6% in Indiana (n=3 polls). Based on Tuesday's voting, in which Cruz underperformed polls by a median of 4 percentage points, I will no longer assign a Cruz bonus. Note that Trump overperformed polls by a median of 8 percentage points.
As of today, for recently-unpolled states (NE,WV,OR,WA,MT,NM,SD) I will start using Google Correlate-based estimates. Of those states, Trump is favored in West Virginia (34 delegates) and is near-tied in Oregon and Washington (proportional representation). The rest are Cruz states.
Put through the PEC delegate simulator, the median delegate count is 1333 (interquartile range 1304-1339). The probability of getting to 1237 delegates is 98%: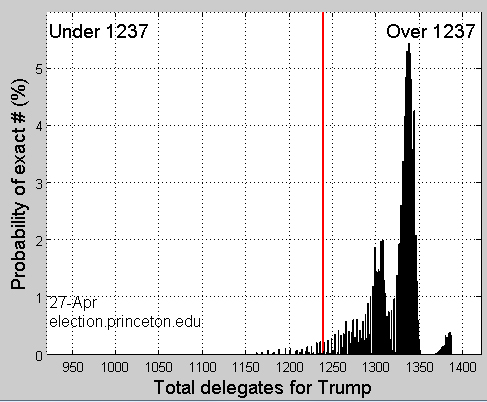 What if we assume that Trump will lose Indiana? In that case the median drops to 1284 delegates (interquartile range 1278-1287). The probability of getting to 1237 is now 97%: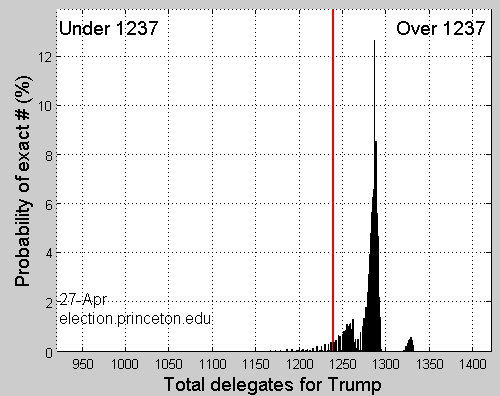 The 1% change in probability is inconsequential. The main effect of forcing a Cruz win in Indiana is to reduce uncertainty in the delegate count, which you can see in the narrowing of the historgram.
Close states (Oregon, Washington, and New Mexico) happen to use proportional rules, so they contribute very little uncertainty. Winner-take-all or nearly-winner-take-all (i.e. district-level rule) states are either strong Cruz (Nebraska, Montana, and South Dakota) or strong Trump (West Virginia, California, and New Jersey).
Most of the remaining uncertainty comes from district-level races in California. With California polls showing Trump +18% (Google Correlate says Trump +31%), it will take a highly coordinated effort by Cruz and Kasich to pick up many of its 53 districts. They would use geographic information like this Sextant Strategies survey to guide their efforts. At the moment, the likeliest outcome is for Trump to get at least 160 out of 172 delegates in the Golden State.