Several of you are asking why the EV estimator took a sharp dive, from >320 EV yesterday to 303 EV today. Under current conditions, the Median EV estimator is prone to making some big jumps. Two large states, Florida (29 EV) and North Carolina (15 EV), were on the edge, to generate four major possibilities. Then North Carolina dropped out of contention, leaving one tie, and therefore pairs of large peaks that are 29 EV apart. This "lumpiness" makes the median inherently unstable.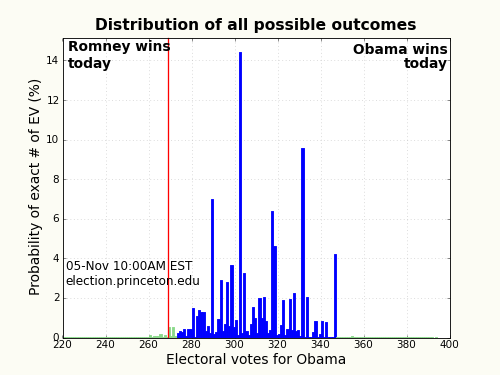 For a smoothly-varying number, watch the Meta-Margin, which uses the information found in state polling margins and is better behaved:


As you can see, the Meta-Margin, defined as how much swing it would take to make the EV distribution a perfect tossup, has been moving up steadily. It's almost at Obama +3.0%, the center of the likely range that I proposed back in July/August.