The tyranny of online political writing is that one often feels under pressure to interpret events before enough information is available. I am now wondering if I wrote off the VP debate a bit prematurely.
Last week, President Obama crash-landed spectacularly, ending up with a bare electoral lead over Mitt Romney. The Popular Meta-margin (defined as how much swing it would take to create an electoral vote near-tie) was Obama +0.6%, the lowest his lead has been all season. At the time I thought it had started to turn around before the VP debate, so that Biden's performance was like the rooster greeting the dawn – not a contributing cause. Is it time for me to eat crow?
Take a look at this, which is from the state-poll Meta-analysis: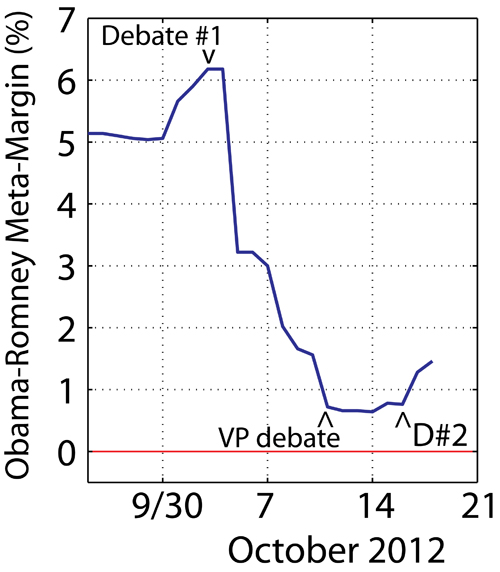 Keep in mind that it takes a few days for fresh state polls to even start getting into the Meta-Analysis. For example, until the rightmost data point on October 18th, this graph made use of no polls taken after the second Obama-Romney debate. And a shock to the race takes 10-12 days to become fully apparent (see the effects of Debate #1). Therefore any changes you see might be caused by debate #1 or the VP debate – but not by debate #2.
Here is what I see:
The Vice-Presidential debate came precisely when the Meta-Margin (and of course the EV estimator) was bottoming out. It is not possible to give Biden credit for stopping Obama's fall.
But look a few days later. Today the Meta-Margin has crept up to Obama +1.5%, almost a full point higher than last week. Although the President is well below his post-convention high of +6.2%, he has made up ground. The only preceding event is the Vice-Presidential debate.
The effects of Debate #2 are just starting to hit. Look for changes today, probably favoring Obama.
The rise is small, but its timing makes Biden more like Apollo, the god who pulled the Sun up every morning in his chariot. More tongue-tied than the original…though he was still generally perceived as winning the debate.
Biden was good for Democratic morale…but was the reversal his doing, exactly? Today's media herd galumphs off after one story at a time. I don't know that the VP debate moved opinion directly. What it did was change the story away from "Obama was nearly comatose" to some mix of "Obama could learn from Biden," "Biden thrashed Ryan," and even "Biden smiled too much." It doesn't matter. It really could have been anything. The news cycle is naturally one week long. In August, the addition of Paul Ryan to the VP ticket led to a bounce – which was stopped when Todd Akin opened his mouth about "legitimate rape." And on to the next news cycle. Three more cycles to the election.
>>>
Finally, some commentary on recent national polls.
Despite the newspapers' fascination with the most extreme surveys (Gallup comes to mind), these are exactly the ones you should ignore. Instead, use the middle one (a.k.a. median) of all available surveys. Doing so gives Romney +0.5% +/- 0.8% (n=10, Oct. 11-18 survey dates).
During that same period, President Obama has been ahead in the Electoral College, with 277-290 electoral votes and a Meta-Margin fluctuating around Obama +0.6 to +1.5%. This means that Obama currently has a structural advantage in swing states of 1-2% compared with national polls. In other words, Obama could lose the popular vote yet win the election. Something similar happened in 2000 when George W. Bush lost the popular vote, yet became President. Live by the sword, die by the sword.
I'm on National Public Radio today, Talk Of The Nation's Science Friday, at 2:15pm with Flora Lichtman and Nate Silver. Tune in!