Tweet
Josh Marshall, Andrew Sullivan, and John Podhoretz (but not the ever-sensible James Fallows) are asking: should the President's supporters panic? Based on how campaigns generally behave, definitely not. At least wait until the weekend. I know that seems like an eternity. Let me explain.
Romney fans hope for last week's trends to continue all the way to Election Day. The Popular Meta-Margin for President Obama hit a high on October 3-4 (+6.2%), from which it has fallen to a near-low (+1.8%) in just 6 days. At the current rate of fall, on November 6th Romney's popular vote margin will be a 60%-40% win.
Um, obviously that is unlikely to happen. What is wrong with the reasoning?
For one thing, now is exactly the time when a shock to the campaign should start to settle out. In the case of past large swings, getting enough state polls takes 10-12 days. Here are two prime specimens, the Ryan VP nomination and the 2008 Palin VP nomination.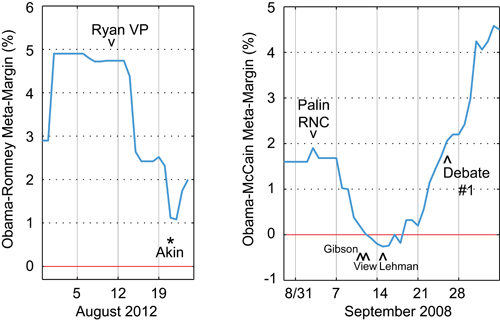 Note that for Romney, the post-Ryan peak was the closest he's gotten all season. It shared one reason with the current bounce – partisan enthusiasm, as I mentioned Monday.
Today's Meta-Analysis now has fresh polls in all swing states, mainly taken 10/4-5 – immediately after the debate. That means the initial shock is well baked in. We should have the full  measure by Sunday.
The bottom (or top, depending on your point of view) should be close to where things are now. One clue is that during the Ryan and Palin bounces, the Meta-Analysis didn't reverse direction – not a jitter – until it was actually near bottom. It did that today. Even if things move further, a minimum may be near.
Some of you have asked: Was last week's debate was a black-swan event? Emphatically not. For one thing: the race is still well within the range I predicted on August 3rd.To quote:
On any date in Summer and Fall of 2004 and 2008, a good estimator of the November outcome was what had happened so far: a Bush-Kerry dead heat and an Obama lead. Similarly, today our best estimate of Election Day performance is the average of June and July 2012. Right now that's approximately Obama 315 EV, Meta-margin of +3.0%….the Meta-margin is roughly distributed like a Gaussian….In 2008, the standard deviation of the Meta-margin was 2.2%. Therefore our November prediction is Obama +3.0 +/- 2.2% (1 sigma).
As of today, October 10, the Meta-Margin is at Obama +1.82%. That is only 0.5 sigma below the predicted mean. To paraphrase the supermodel Linda Evangelista, we don't wake up for less than 1 sigma. (Update: hmmm, lots of you are clicking that. Try this.)
That is not to say last week wasn't surprising. The fact of some change after the first debate is no surprise, at least to readers of this site. But the size – I admit, that caught me unawares. In retrospect, though, the real surprises have been (a) how high Obama was before the debate (+1.5 sigma), and (b) how stable the race has been – even now. The actual distribution of Meta-Margins since June 1 has been Obama +3.3 +/- 1.1% (mean +/- SD). In other words, even including this week, the race has been only about half as movable as Kerry v. Bush.
As I pointed out during the late Pleistocene in early August, re-election races move within a fairly narrow range of opinion. The 2004 race, the first that I covered, spanned a range of barely 100 EV:
That year featured the fairly surreal Swift Boat Veterans for Truth campaign. In 2012, Obama/Romney supporters are in a freakout over this:
In summary, to both sides I say: Get. A. Grip.
Let us borrow from Heather Parton, a.k.a. Digby:

In this clip, you are Nicholas Cage.
Based on the short-term prediction calculation that we set up on September 29th, Obama's current re-elect probability is 93%. And yes, you know what I think about InTrade. They are as hysterical as Chris Matthews.
Where is the race headed next? I don't know. I do know that our brilliant media can only focus on one thing at a time. That one thing is about to be Biden v. Ryan.