(Welcome, readers of IEEE Spectrum! A small group, but enriched for quantitative people. Do not be fooled by the picture. I usually do not glower.)
The Popular Vote Meta-Margin just hit 5.0%, its highest value of the campaign. I will briefly address the wishful thinking of Romney supporters, despite its faint whiff of hysteria. Some fantasies involve the assertion that party weighting is off. Others suggest that undecided voters will all go in one direction. However, Jay Cost and Unskewed-Man should probably drop the silliness, for the following reasons.
Party self-identification is more fluid than is commonly realized. Not only does voter enthusiasm change on either side, but some people seem to change their self-report. This hypothesis would also require a simultaneous, coordinated effort by all the pollsters (except for brave Scott Rasmussen) to stop doing what they did so well in 2004 and 2008 (see left sidebar). Bottom line: the polls are fine.
The undecided voter break is also highly unlikely, as Charles Franklin reported in 2008. As evidenced by recent polls, undecideds are currently 5.0 +/- 1.7 % (median +/- estimated SEM, n=6). Based on how last-minute undecideds have split in the past, they'll only be good for a net shift of 0.3 +/- 1.0 % towards Romney.
Finally, there is the question of whether the debates matter. Contrary to what has been said lately, in fact they might, especially the first one. In 2004, Kerry gained about 30 EV, equivalent to about 1.5% of Meta-margin: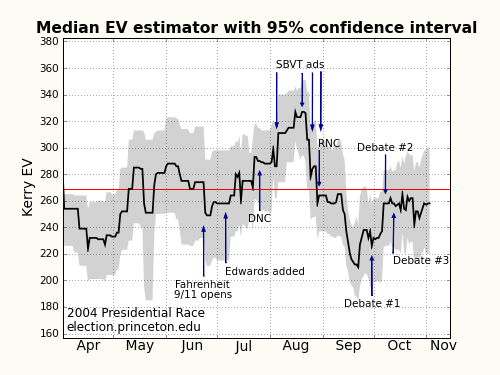 Let's say Romney overpowered Obama in debate (1.5%) and captured an unusually high fraction of undecideds (0.3+1.0 = 1.3%). That's 2.8% total. He would still have to make up an additional 2.2% from somewhere, almost the size of the post-Democratic-convention bounce to date. I do not see that happening.
I encourage you to focus away from the Presidential race. Of more practical interest are questions where the outcome is uncertain: a few Senate races (ND, IN, MT, CT, and MA), and House control. Karl Rove's Crossroads GPS is probably making adjustments to reflect this polling reality. It's hard to imagine them pouring much more money into the Presidential race. I have adjusted ActBlue as well, by de-emphasizing WI-Baldwin and VA-Kaine because they are out of the knife-edge zone.
(Update: As pointed out in comments, Senate races in Nevada and Arizona might be entering knife-edge territory. I'm watching that.)