You are so impatient. Today is still all pre-DNC data. But I predict you'll recognize the bounce when it hits.
Another Stat-urday. Let's look at Steve Lombardo's claim that "you didn't build that" was a quadratic turning point on July 13th. Aside from the fact that this "trend" extrapolates to a 20-point win by Romney on November 6th, which is wrong, there is a small grain of truth here. It's a story I have already told, that of the Ryan-VP bounce.
First, Lombardo's original plot: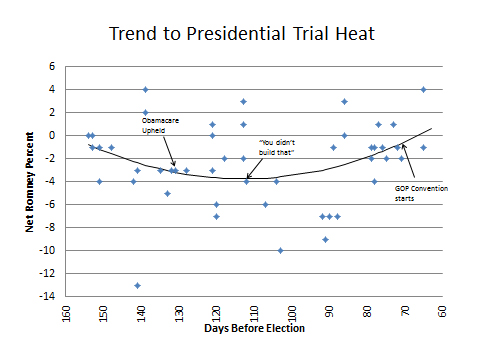 (Note the axis convention that a Romney lead is plotted as a positive quantity, converse to the style of plots here at PEC.)
Fitting to a quadratic doesn't make sense. There is no Iron Law of Opinion that says the national margin has to follow a trajectory like that. Extrapolate it out 60 more days, and Romney wins by a Johnson-Goldwater-level landslide. Partisan fantasies are one thing, but this is obviously wrong.
But the core claim might have value: that since July 13th, the Obama-Romney margin has been moving in one direction. Could that be true?
One test would be to run a simple correlation on post-July-13 data to see if there's an upward trend. The data look like this:
In this dataset, the correlation coefficient is about r=+0.27, which works out to a p-value of 0.11 (one-tailed). As I've written before, p<0.05 is when a scientist starts thinking something is there.
So it's close to significance. Perhaps Lombardo has formed a hunch, an intuition. In that context, the quadratic fit is a way of asking is there was a minimum point somewhere in this series of data. But such a fit is imprecise at best. If we were to look at the details of the fit, we would probably find that this method only allows the minimum point to be localized to within about a month, given the quality of the data.
However, we have state polls, which provide higher time resolution. As it turns out, all the Romney-ward movement since July 13th happened in a single week in August.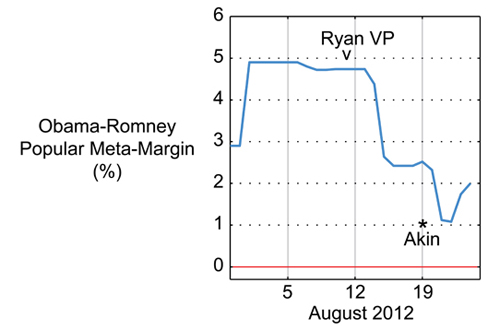 To match this to the Lombardo plot, August 13th is 85 days before the election. Maybe now you can where the shift is likely to have occurred in the national-poll data.
As I wrote Wednesday, the Ryan bounce has partly subsided, as seen in the Meta-analysis history. So I wouldn't go investing in Lombardo Quadratics quite yet. It's a bit molasses-like in its ability to detect quick changes.