(Update: If you're coming here from the Huffington Post piece on the Colorado model, you may want to read my response to it.)
The predicted path of a storm can change. Hurricane Isaac was thought to be headed for Tampa (and the GOP convention) until a few days ago.

Now it's headed for New Orleans.
Unchanged is the poll-based prediction for the 2012 Presidential race:

Here are the hard numbers:
President Obama re-elect probability: 88%.
Electoral prediction: 283-353 EV (1 sigma, the red zone), 250-360 EV (2 sigma, the yellow zone).
Vote share prediction: 51.6 +/- 1.1% (1 sigma).

These are long-range predictions, as explained here. They will change between now and the end of September, as more data become available.
Some of you wanted to know what this approach, which is based on polls only, would have said in 2008. Well…it would have looked like this:
The low point at 40 days occurred shortly after the Palin VP nomination.
For 2004, my calculation is approximate since I don't have access to the Meta-margins at present. It would have been roughly this:

As you can see, the 2004 race was a cliffhanger.
Last week I pointed out that today's polling snapshot is only predictive on time scales of less than 40 days. It was only in late September and October 2004 that Kerry's poor prospects became clear, as evidenced by the daily snapshot: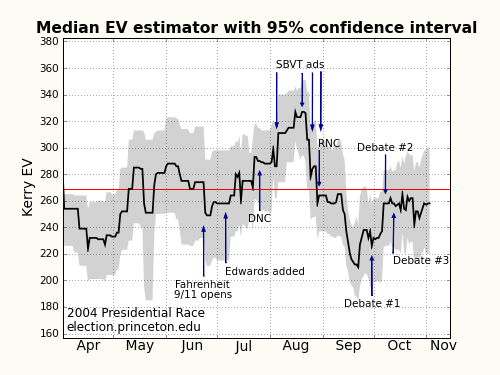 So conditions can certainly change.
However, this year's race seems unusually stable so far. Since June 1 the Meta-margin has been Obama +3.18 +/- 0.99 % (mean +/- SD). That SD is less than half that of 2004 or 2008. So the campaigns are fighting it out over 2% of the voters (or equivalent variations in turnout).
It is for this reason that I find this prediction from political scientists at the University of Colorado to be unbelievable. For Romney to get 320 EV, as they predict, would require a swing of about 7% from current conditions. I am pretty sure that is not going to happen. If Romney wins, it will be by a whisker.
For your purposes, reader, the basic problem with nearly all political science-based models is that they can only reveal the general tone at the start of an election season. Once the campaign starts, polls are a direct measurement, and therefore a far better guide. You don't need a weatherman to know which way the wind blows.