(Update: Posting updated at end.) There was a big load of polls yesterday. Our Meta-analysis distills it. The bottom line: the Ryan bounce seems to have peaked at a considerable 3.0-3.6 percentage points, though Obama retains a lead equivalent to 1.8%.
Just looking at individual polls – or even poll averages – makes it hard to get a clear read on the race. Commentators suggest variously that President Obama is still ahead, and may or may not have lost ground (Drum TPM 538).
The following graph, which probabilistically converts all available state polls to a single electoral snapshot, clarifies matters a bit.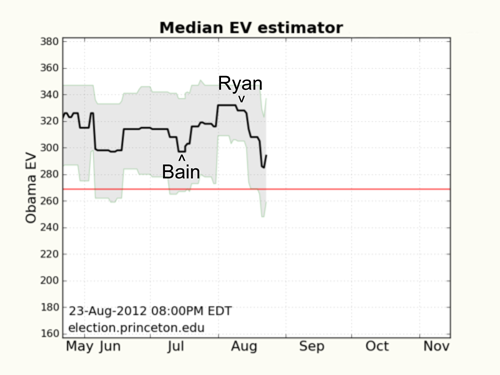 That's in units of electoral votes.
Now, in units of Popular Meta-margin: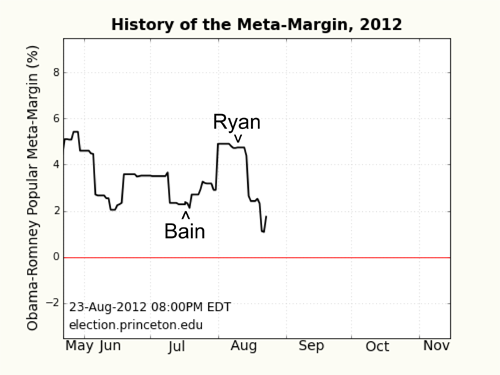 One week after the August 11 VP announcement, I pinpointed the size of the bounce at 1-2 points of swing in opinion. At the two-week mark, the swing has grown to 3-4 points. At the end is an uptick back towards Obama, which suggests that the post-Ryan bounce may have peaked.
As I showed yesterday using autocorrelations, swings in the race are not predictive of the final outcome until the end of September. So the Bain- and Ryan-driven events are of only momentary interest. However, those events do contribute to the average of what's happened so far. I use this average (and the variability of past Presidential races) to make a long-term prediction. In the long-term outlook, President Obama's re-elect probability is 88%. The likely electoral outcome is 283-353 EV (+/- 1 sigma) or 251-360 EV (+/-2 sigma).
A note on my use of "Ryan-driven": it is not possible to say with certainty that the Ryan nomination was the cause of Romney's improved standing. It could also have been the de-emphasis of Romney's income taxes or Bain Capital association, because the news was filled with Ryan instead. It could have been the Romney campaign's ads on welfare. Or something else. All we know is the timing and size of the change.
Update, 12:19pm: Further thoughts on why the bounce has ended.
More recent events are not measured in the average in the graph above: all the stuff about "legitimate" rape and other post-Ryan stories. Now that media attention has shifted toward Todd Akin, the conventions, and whatever comes next, the race will inevitably move again.
My general view is that the race has a "set point" much as a thermostat does, and that opinion tends to be drawn back to the set point. From this perspective, both the Ryan and Palin VP nominations are powerful but risky moves. Now we have a measure of how effective the Ryan nomination was in the short term. I continue to believe the main effect for the November elections is to yoke the Presidential and Congressional elections together more strongly.