A few of you have written asking if I plan to change my Presidential prediction based on recent changes. The answer is no.
Some envelope scribblings today to show the basic reason: until the end of September, the daily snapshot is not correlated with the final outcome. Read on.
As an illustration, here is the 2008 Obama-McCain race, measured in units of Meta-Margin (defined as how much popular-vote swing would tie the race):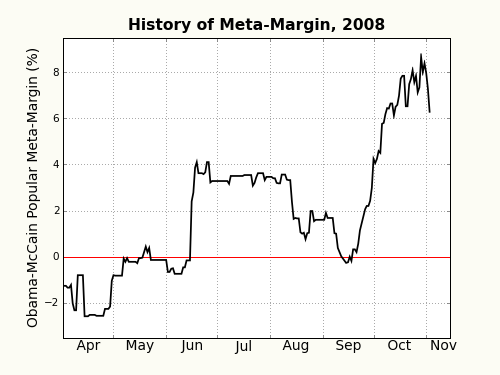 That race's major events included the Palin VP nomination, both party conventions, the first debate, and the September economic collapse.
It is possible to calculate how much, and how quickly, the 2008 race tended to move. Here is a plot of average changes going forward in time, calculated for the entire campaign season:
The shaded gray area indicates the +/- 1 standard deviation band. Like a hurricane strike zone, the gray area gets wider over time. (Update: for more discussion see the comments.)
Here is the important part: the gray band reaches a maximum width in 40 days. Only when the election was less than 40 days off (September 27th) did the snapshot have any short-term predictive power. The same tendency is apparent in 2004 data.
This loss of predictive power over time explains why the Princeton Election Consortium's statements are consistent regarding (1) a snapshot of conditions today, and (2) a long-term prediction of the November 6th election outcome:
The snapshot today is Obama 285, Romney 253 EV, and a Meta-margin of Obama +1.1%. An election today would be nerve-wracking for both sides. The long-term prediction, based on the fact that voter sentiment mostly stays within a finite range, uses a past Meta-margin standard deviation (MMSD) of 2.2% and this year's average Meta-margin of Obama +3.25% to give a November re-elect probability of 88%.
The bottom line: These two measures, snapshot and long-term prediction, are potentially divergent from one another until the end of September. After that, a short-term prediction will become possible that is driven by the current snapshot.