In a radio interview on Wednesday, I pointed out that averaged pre-election polls were very good predictors of final outcomes. Indeed, they are an underappreciated defense against fraud.
First, let's look at this year's results. In every state where the median pre-election poll showed a margin of 1% or greater, the leading candidate ended up winning that state.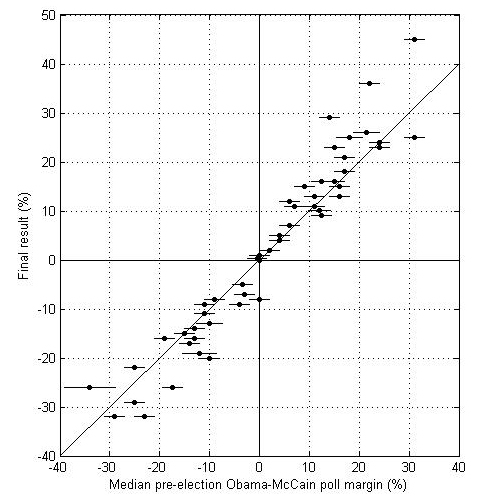 (Click the map to get a detailed zoom for polling margins less than 15%. Data here, from Pollster.com. Error bars corrected to be plotted horizontally.)
Overall, the median discrepancy between polls and outcomes was 3% (r=+0.975). The discrepancies are about 1.5 times as large as would be expected from variability among polls and/or sampling error. But because the outcomes tend to be more lopsided than indicated by polls, the larger error doesn't hurt when it comes to predicting winners.
In the four states with extremely close polls, Indiana, Missouri, North Carolina, and North Dakota, three were won by one percentage point or less. In the fourth state, North Dakota, pre-election polls were sparse and dominated by partisan organizations. I do not expect the United Transportation Union to become a major polling force in the future.
Pre-election polls did equally well in 2004, when they successfully predicted every battleground state winner except Wisconsin, which was won by less than one percentage point. Indeed, it is often not appreciated that pre-election polls tend to be more accurate than exit polls, which are done face-to-face and as a result suffer from biases. For this reason pre-election polls are an underappreciated bulwark against vote fraud.
The reasoning can be taken even further. In the Alaska Senate race, Senator Ted Stevens (R) is unexpectedly leading Ted Begich (D) in the vote count. Stevens recently received a felony conviction for ethics law violations, and trailed in the last two polls (though they differed, +22% for Begich, then only +8%, suggesting volatility in the race). Skulduggery in vote counting has been suggested. Or Begich's supporters may have simply voted early, like many Democrats nationwide, and are not yet counted.
If the controversy persists, one possible answer is to commission a professional, nonpartisan post-election poll. The poll could be simple: a question to find out if the person voted; a question about how they voted in the Presidential race, to make sure the sample is representative; and a question about whether they voted for Begich or Stevens. This would probably identify any margin for Begich of a few points or greater. It's something for a media organization to consider doing.