John McCain had a good weekend. He had sharp upticks in his support in close states including Indiana, Missouri, North Carolina, and Pennsylvania. (Actually, PA went up mid-last week -Sam) However, it doesn't appear to be enough. At the current rate, he might be caught up…by Thanksgiving. The good news for him is that assuming these last polls are predictive, he may well avoid the ignominy of a 2-1 defeat in the Electoral College.
At this point we have ties in North Dakota, Indiana, and Missouri, and a neck-and-neck race in North Carolina (McCain +1%). These are enough to shave off some of Obama's lead. The current bottom line? Obama 352 EV, McCain 186 EV. The Popular Meta-Margin is Obama +6.3%, a distinct downtick but still within the range seen for most of October.
The current probability map looks like this:

As of this writing, the safe EV counts (snapshot win probability >95%) are Obama 311 EV, McCain 157 EV.
If we add 2% across the board for McCain, the map looks like this: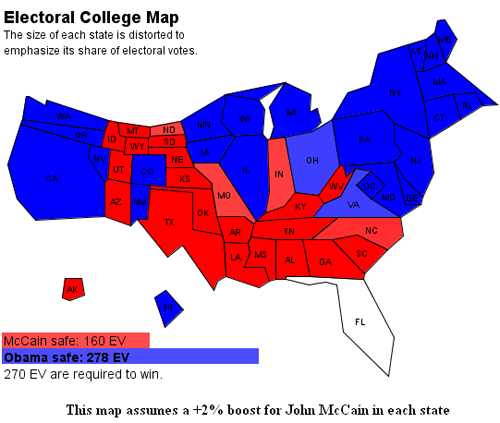 Still no joy in Mudville for McCain-Palin.
Full analysis, including the bias calculation, in a few hours. It's time for sushi!