The EV estimator has reached its highest level since July. The Meta-Margin is nearly 4%. Once a few stragglers come in – notably Missouri and New Hampshire – the picture will be reasonably current. The tactical benefits to McCain of the Celebrity ad (and other August attacks) and VP pick Sarah Palin have been fully reversed.
A CBS survey says that two-thirds of registered voters will watch the debate between Senator Joe Biden and Governor Sarah Palin. Palin's future on the national stage may hinge on her performance. But is there anything that can happen that will affect the fate of the McCain/Palin campaign? Basically, no. (though see update below)
As I've written, game-shifting events seem to occur about once every 20-30 days (though it's not always possible to identify the triggering event with confidence). For now let's concentrate on the size of the events. First, let's look at 2004. Andrew has applied the new rule (last 3 polls and last 7 days of polling) to that dataset to get a smoother result in October than what I've shown before.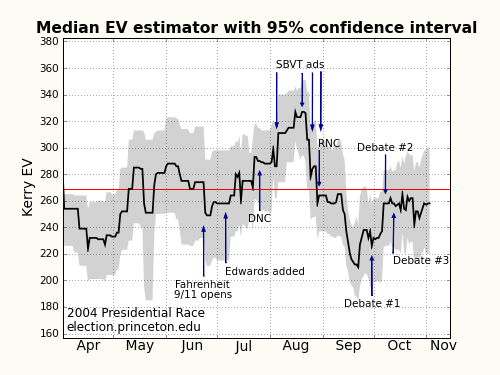 There was a slow run-up from mid-June to mid-August. But the big game-changer was the Swift Boat ad campaign, which attacked Senator John Kerry's wartime heroism and yielded 60 EV. The Republican convention yielded another 30 EV or so. Kerry's strong performance in the first debate helped him (30 EV), but it wasn't enough.
But here's the important point: the remaining debates did not move the race. For those who recall, President Bush turned in a considerably stronger performance in the second debate than in the first. But evidently it didn't matter.
What about tonight? Clearly this event has the potential to be more important than past vice-presidential debates. Palin's convention speech was followed by an exceptionally large single-day bounce. But the bounce has dissipated in strong correlation with her unscripted television appearances. If she did well tonight, she might conceivably help McCain recover a little lost support. But let's face it – however well she does tonight, she's unlikely to persuade many people that she's ready to be President, much less change their preference about the candidate himself. (Here's some insightful analysis from 236.com.)
The remaining question is whether non-campaign events can change the picture. It's hard to think of an October Surprise that would be large enough to change the November outcome. If there is, there's an excellent chance that you won't be spending much time on this website. Stockpiling canned goods maybe…
(Update: here are historical data from Gallup and Pollster.com. From 1936 to 2004, 18 races, the only large swings in October not triggered by a debate were 1968, when Humphrey surged by 14 points against Nixon, and in 1992, when compiled Pollster.com data (but not Gallup) showed a 10-point swing for GHW Bush against Clinton. Neither was enough to carry the day. Based on these data the probability of a big late swing at about 2 out of 18 = 11%. Apologies for previous miscounts!)